Sofia Evangelina is the latest Canadian teen sensation who is rapidly climbing the ladders of success at a young age. She is a talented singer and songwriter known for her powerful stage presence, mesmerizing voice, great personality, and soulful lyrics. She recently won the "Best Album" award at Young artist Academy Gala 2019 in LA, for her debut album "Butterfly". She also won the "Rising Star" award at LA Music Critics Award and RnB Album of the Year by The Mics, among many other accolades back to back. Apart from a rising singer, she has also become the ambassador of international anti-bullying and youth empowering organizations and a Gen-Z influencer on a mission to inspire and empower people to stand for right. Her latest single "Smile" is now out on all major music platforms.
In this candid interview, Sofia opens up about her musical journey so far and what is she planning to do next in her career.
Interviewer: Give us a brief of your background.
Sofia: I was born in Canada, Eh! To a Russian mother and a French-Canadian father. I was most definitely born an entertainer, ready for the stage, and my spirit was fueled by heaps of energy and adrenaline.
I always joke that I knew who I wanted to be and what I wanted in life from the moment I came from the womb, saying "okay people! We've got work to do!"
Growing up I had balanced my passion for the arts and entertainment world with an extreme sporting career that became professional very young, which was fueled my competitive drive and adrenaline-seeking spirit. As expected, the day had come, where the two worlds could no longer meet. My choice was beyond clear, it was my time to dive head straight into the music industry, give my all and do whatever it took to make it.
Interviewer: What/Who inspired you to become a singer?
Sofia: I remember hearing and feeling music all around me, I use to sing to it or dance to it. I've been an artistic soul and in love with music and with the entertainment world since my life's very own big bang!
When I was little, my mom introduced me to Andrew Lloyd Weber's Phantom Of The Opera, I soon became mesmerized with the whole production and memorized each song, my mom even took me to Vegas to see the live show. My fascination with music began to evolve as my mom introduced me to the greatest of Jazz and Blues, then Motown and fall in love with R&B and Soul. But not until I had watched Burlesque, my life would changed forever. The moment Christina Aguilera opened her mouth and began to sing, that was it. I didn't know how in the world she made that sound so full of passion, but I felt with every bone in my body, and I knew that was who I was and who I wanted to be for the rest of my life. Christina became my biggest inspirations, and soon after I dug into her greatest inspirations, listening to all of the greatest divas from the past like Nina Simone, Aretha Franklin and Etta James, just to name a few, had put a hold on me, literally! Ever since I've been looking up to my olden day I have inspired by many modern-day Queens from Beyonce, to Mariah, to Lisa Fisher and more. Now I draw inspiration from every music genre, from classic to His Hop to Pop to … sound of ocean, forest or city.
From those who I feel shaped my soul's sound, and my present I dream to make my unique mark on the world.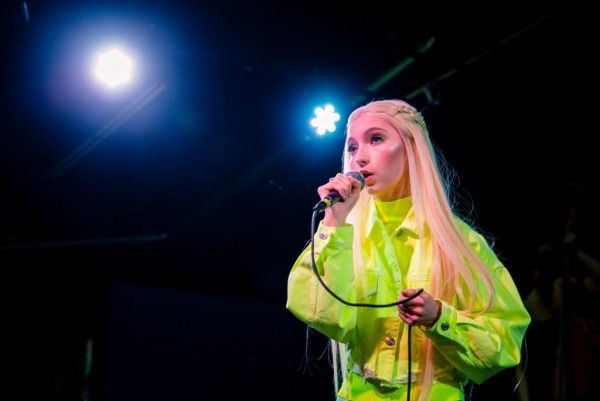 Interviewer: Tell us about your debut album "Butterfly".
Sofia: Butterfly was my very first piece of work that would allow to "flutter" my wings into the world as an artist. We wanted to do a medley of covers from different eras and genres, to pay tribute to some of those who've influenced my singing and to give perspective to my vocals at that time. I had also three original songs that were only released to a physical album, something exquisite.
Interviewer: How do you feel about receiving such reputed awards at such a young age?
Sofia: I feel beyond humbled and overjoyed. Each award has been a blessing to my career, but the Young Artist Academy award was the biggest honor to date. I feel very grateful to have been appreciated for my a very debut work. For 40 years the Young Artist Academy recognized and encouraged the best in new generations of entertainers and I was thrilled be amongst other incredible young talent. The most important feeling I have left with is that I now feel duty and obligation to take it all the way and with my music and life, to be inspiration to others.
Interviewer: Tell us about your latest single "Smile".
Sofia: Smile is my latest track.
This upbeat and impossibly catchy R&B tune is produced by Roy Hamilton III, a multi-platinum producer known for his work with Michael Jackson, Britney Spears and Keri Hilson
"Smile" is a heartwarming ode to positivity… a cathartic anthem to the power of a smile. It takes the listener on the journey and remind about the importance of never giving up hope and tells how a simple gesture can uplift our spirit, make our day or even turn around someone life.
Interesting that unlike others, this song literally wrote itself! When I had a visit with another songwriter in Nashville, we talked about of smile, and one hour, right in the hotel room the base of song was born. "We find the faith to carry on, When we smile"
In the spirit of holidays and beyond, this track is sure to make you move and grove and I hope it will make everyone happy 🙂
Interviewer: Tell us about your upcoming projects.
Sofia: Smile, is part of a forthcoming EP. As well there are more singles coming soon, and I couldn't be more excited. I collaborate with other artists and songwriters, and have thing on my own.
There is some big, epic songs coming. Brace yourselves!
Outside of music releases, there are some interesting things cooking, which I hope will become shareable news soon. In other words, get ready for a whole lot of Sofia!
One sheet Smile release:
https://sofiaevangelina.hearnow.com/
https://www.sofiaevangelina.com/
https://www.instagram.com/sofia.evangelina/
Spotify: https://open.spotify.com/track/7wbgV7BEHEOfT0wfvVuJ0l?si=9EZEX_NcRZeT2EICzTkJ0A
Media Contact
Company Name: Crescendo Music Management
Contact Person: Milla T.Chouinard
Email: Send Email
Phone: 347-952-9679
Country: Canada
Website: www.sofiaevangelina.com