Provider of community therapeutic and self-awareness solutions, ICoachME, launches "Depression: The Average Person's Hidden Secret," a new book revealing the tips to overcome depression
ICoachME has again reiterated their goal of advancing the movement of empowering self by teaching individuals self-help skills with the release of their new book titled "Depression: The Average Person's Hidden Secret." Dr. Jenita Griffin, an experienced psychologist and founder of ICoachME, authors the book where she digs into her wealth of knowledge and experience to provide details about the prevalence of depression in America and the leading causes of the condition.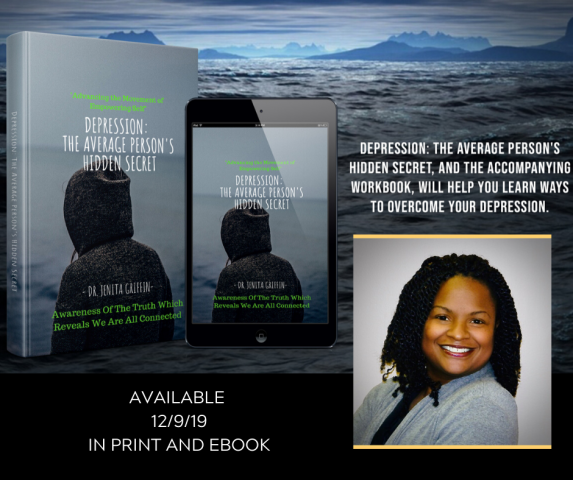 "Dr. Jenita Griffin, is a psychologist, the founder of the organization, ICoachME; and the author of the book Depression: The Average Person's Hidden Secret. In this book, she discusses the prevalence of depression, how the condition is under-reported, and more people than not experience. America is of the highest top 10 populations of people who suffer from depression. Dr. Griffin breaks down how most Americans are in pursuit of wealth, happiness, success, and love, which are four ideologies people pursue that could lead to depression in the process."
Depression remains a condition that has been attributed to other physiological and psychological conditions. Unfortunately, the condition seems to be getting less attention from different stakeholders in the health industry. This is where Dr. Jenita Griffin is looking to change the narrative as she continues in her pursuit of helping as many people as possible to live a healthy, happy life by increasing the awareness about depression.
"Depression: The Average Person's Hidden Secret" is one of the several projects by Dr. Griffin and her team at ICoachME as they dedicate their resources to teaching individuals self-help skills in "Advancing the Movement of Empowering Self." The book is particularly great for adults of all ages, parents, and all categories of people struggling with depression, anxiety, stress, emotional distress or other related conditions.
"Depression: The Average Person's Hidden Secret" as well as other self-help solutions from ICoachME are available on Amazon, Barnes & Nobles, Lulu, IngramSpark and through the author's Facebook site.
More information about ICoachME and the services provided by the organization can be found on their website.
About ICoachME
ICoachME is an organization dedicated to foster empowerment and enlighten others to the movement of self-awareness. ICoachME was founded by Dr. Jenita Griffin, a Psychologist and Mood Lifting Author. Dr. Griffin has worked in the field of Psychology for over two decades, specializing in working with different populations who suffer from various mental health problems ranging from spectrums of neurobiological, mood, trauma, anxiety, sleep, impulse control and eating disorders.
Dr. Jenita proclaims that every individual has the power to heal themselves and could be done with the right mindset, the right tools and the right guidance. She aims to help individuals explore underlying unhealthy habits of functioning and teach self-help techniques through self-empowerment strategies.
Media Contact
Company Name: ICoachME
Contact Person: Dr. Jenita Griffin
Email: Send Email
Phone: 301-371-2775
Country: United States
Website: http://icoachmebooks.com/