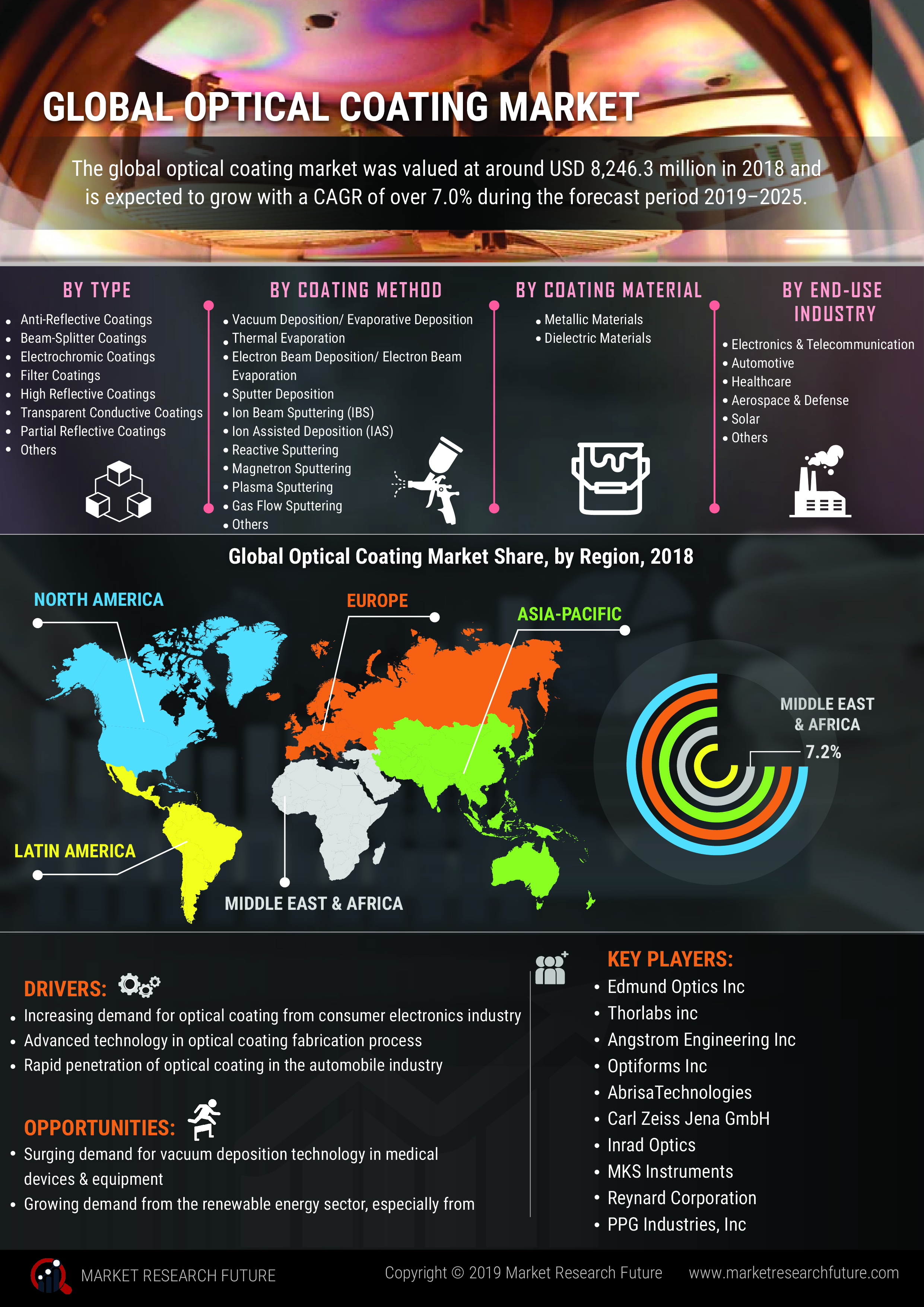 "Prospering Telecommunications Sector Driving the Global Optical Coating Market; MRFR Reveals Insights for 2016-2023"
Optical Coating Market Research Report: By Type, Sputter Deposition, Coating Material, End-use Industry and Region : Forecast to 2023
Market Research Future Has Published a Cooked Research Report on the Global Optical Coatings Market – Forecast to 2023
An Optical Coating is a layer of material deposited on an optical lens so as to modify the reflection and transmission of light. Optical Coating has a number of applications such as antireflection, high-reflection, optical filters and others. The Global Optical Coating Market is expected to yield impressive growth owing to growing prosperity of associated sectors such as telecommunication and application expanse.
According to Market Research Future (MRFR), the Global Optical Coating Market is expected to garner a valuation of USD 11,700 MN by the end of the review period from the current USD 7,964.8 MN. In its recently published analysis, MRFR also asserts that the market would register an impressive CAGR of higher digits over the assessment period (2016-2023).
The explosive growth of the telecommunications industry is driving a large market. According to India Brand Equity Foundation, India has the second largest internet subscribers in the world and holds the first position for data usage per smartphone with an average of 9.8 GB per month which is expected to double by the year 2024. India also accounted for a whooping increase in the number of internet subscribers at a CAGR of 41.58% for the time period from 2006 to 2018. India has an internet subscribers base of 636.73 million in 2018.
The explosive adoption of smart devices and advent of technologies such as 5G is expected to drive the market to new heights.
Additional factors that are fostering the market demand include the dramatically rising end-use industries such as smart phones, screens and others.
Global Optical Coating Market – Competitive Landscape
The Optical Coating Market is fragmented and highly competitive due to the presence of several big and small players. The manufacturing is shifting towards the developing nations owing to low labour cost and lax environmental regulations. However, designing is a preoperative of the developed nations owing to presence of trained manpower and technology. They are also relying on supply agreements with clients so as to generate stable revenue streams and partnerships with clients. New product development represents an ideal strategy for the optical coating market. Companies are developing advanced materials and manufacturing techniques so as to gain faster market penetration and market share. Customised products are another strategy followed by firms. Companies are engaged in working closely with clients to develop product specific solutions with attractive properties such as low dielectric, wavelengths specific reflection and anti-reflection characteristics and dichroic thin-film optical filters.
Get a Free Sample @ https://www.marketresearchfuture.com/sample_request/6046
Optical Coating Market Major Players:
Players Leading the Global Optical Coating Market include AMETEK, Abrisa Technologies, Thorlabs Inc, Angstrom Engineering Inc, Optiforms Inc, Carl Zeiss Jena GmbH, Inrad Optics, MKS Instruments, DowDuPont Inc, Reynard Corporation, Edmund Optics Inc, PPG industries, Optics Balzers AG, II-VI Incorporation, Berliner Glas, Optical Coatings Japan among others.
Optical Coating Market – Industry/ Innovation/ Related News:
October 28, 2019 —- Intevac, Inc., a leading supplier of thin-film processing systems, launched its VERTEX Marathon system which is a high-productivity thin-film platform targeted for the display cover glass devices. Intevac also launched scratch-protection protective coating solution named DiamondClad which delivers enhanced scratch protection and durability and has a high optical clarity. DiamondClad produces a multi-layer, diamond-like carbon film which is claimed to be superior to the standard anti-fingerprint (AF) coated display cover glass. Additionally, DiamondClad is also claimed to be better than AF-coated glass during testing with perspiration, denim, and abrasive sand.
Global Optical Coating Market – Segments
The Report is segmented into four dynamics to widen the scope of understanding,
By Type : Anti-Reflective Coatings, Beam-Splitter Coatings, Electrochromic Coatings, Filter Coatings (Short-Pass, Long-Pass, Notch Filters, Others), High Reflective Coatings, Transparent Conductive Coatings, Partial Reflective Coatings, Others.
By Coating Method: Vacuum Deposition/ Evaporative Deposition (Thermal Evaporation, Electron Beam Deposition/ Electron Beam Evaporation), Sputter Deposition (Ion Beam Sputtering (IBS), Ion Assisted Deposition (IAS), Reactive Sputtering, Magnetron Sputtering, Plasma Sputtering, Gas Flow Sputtering, Others).
By Coating Materials: Metallic Materials, Dielectric Materials
By End Use Industry: Electronics & Telecommunication, Automotive, Aerospace & Defence, Solar, Healthcare, Others.
By Regions: North America, Europe, Asia Pacific, the Middle East & Africa (MEA) and Latin America.
Global Optical Coating Market – Regional Analysis
North America dominates the Global Optical Coating Market with the largest market share. It accounted for over 30% of the market share in 2015, with a market value of USD 35.4 MN. The region is further projected to grow at a 4.37% CAGR during the forecast period. Factors such as High adoption of desiccants for pharmaceutical and chemical sectors drive the growth of the regional market.
Besides, the rapidly growing pharmaceutical packaging industry and medical devices industry foster the growth of the North American Optical Coating Market. Furthermore, well-established healthcare sectors and highest healthcare expenditures in the region provide a huge impetus to the growth of the market in the region.
The Optical Coating Market in Europe is growing rapidly. In 2015, the European optical coating market had valued at USD 31.9 MN. The proliferating healthcare industry and flourishing pharmaceutical industry in the region boost the market growth, providing the best drugs and quality care. Additionally, factors such as the latest developments in the healthcare sector and marketing strategies and commercialization models drive the Europe Optical Coating Market.
The Asia Pacific Optical Coating Market is emerging as a promising market globally. The regional market is projected to grow at a CAGR of 4.67% over the review period. Growing manufacturing activities and aging population drive the growth of the regional market. Owing to the burgeoning pharma sector, the region is estimated to witness a spurting growth over the projected period.
Browse Key Industry Insights spread across 100 pages with 152 market data tables & 27 figures & charts from the report, "Optical Coatings Market Information: By Type, Sputter Deposition, Coating Material, End-use Industry and Region – Growth Potential, Price Trends, Competitive Market Share & Forecast 2023" in detail along with the table of contents: https://www.marketresearchfuture.com/reports/optical-coatings-market-6046
About Market Research Future:
At Market Research Future (MRFR), we enable our customers to unravel the complexity of various industries through our Cooked Research Report (CRR), Half-Cooked Research Reports (HCRR), Raw Research Reports (3R), Continuous-Feed Research (CFR), and Market Research & Consulting Services.
MRFR team have supreme objective to provide the optimum quality market research and intelligence services to our clients. Our market research studies by Components, Application, Logistics and market players for global, regional, and country level market segments, enable our clients to see more, know more, and do more, which help to answer all their most important questions.
Media Contact
Company Name: Market Research Future
Contact Person: Abhishek Sawant
Email: Send Email
Phone: +1 646 845 9312
Address:Market Research Future Office No. 528, Amanora Chambers Magarpatta Road, Hadapsar
City: Pune
State: Maharashtra
Country: India
Website: https://www.marketresearchfuture.com/reports/optical-coatings-market-6046