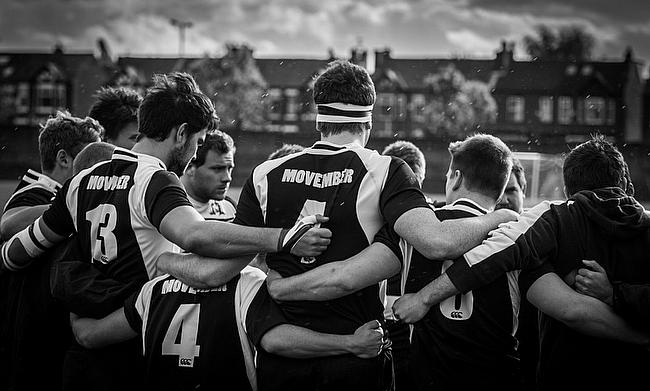 More than £11,000 was raised by National League clubs, players and supporters during our Movember campaign last month.
Movember is the world's leading men's health charity which aimstoraise funds and awareness for mental health, testicular cancer and prostate cancer.
Men's health is a topic which is being talked about more in the public eye and the NCA linked up with Movember in order to use rugby as a tool, as well as a platform, to continue increasing awareness.
The teams plying their trade in National One and both sections of National Two showed us why our sport can bring people together and the generosity shown was outstanding.
Clubs such as Cambridge and Bishop's Stortford raised over £4,500 between them whilst National Two sides Fylde and Loughborough Students accumulated £1,500 each.
"I think we have been pleasantly surprised by the amount of support we have got from the National Leagues," said Dan Elsom, who has played an integral part in Bishop's Stortford's fundraising as well as being the press officer for Movember.
"Obviously, men's health is a topic which has been in rugby for quite a while now and it is being talked about and becoming a bigger thing. I think when you hear guys from the professional set-up talking about mental health or guys like Jonny Williams at Newcastle Falcons, who is going through testicular cancer, them being open about it encourages people in the National Leagues to have that conversation.
"It is a bit of a surprise to see the amount of money these clubs have raised, but it isn't in a way!"
Dan's teammates at Stortford, George Cullen and Ben Cook, also cycled from London to the Rugby World Cup in Japan to raise funds for Movember.
Men's health has unfortunately been in the NCA headlines over the last month following the death of Scunthorpe 1st XV player James Walker, but the reaction from our clubs to this tragic news and our Movember campaign has been commendable.
Max Ashcroft, Talking Rugby Union representative and Sedgley Park player said: "It shows the power of the National Leagues and it also shows the power of the clubs and the rugby community when everyone joins forces.
"Thank you to all the clubs and players who have got involved with our partnership this season. Your generosity makes all the difference. Let's go for £20,000 next year!"
The work doesn't stop for Movember in December. The charity will continue collecting donations before turning their attention to 2020, which will include another campaign as well as Testicular Cancer Awareness month in April.
On behalf of the Movember team and everyone connected with the NCA, we thank you for your immense support and generosity.
Media Contact
Company Name: Webworks DAT
Contact Person: Darshan Walawalkar
Email: Send Email
Phone: 09029009921
Country: India
Website: http://www.ncarugby.com/