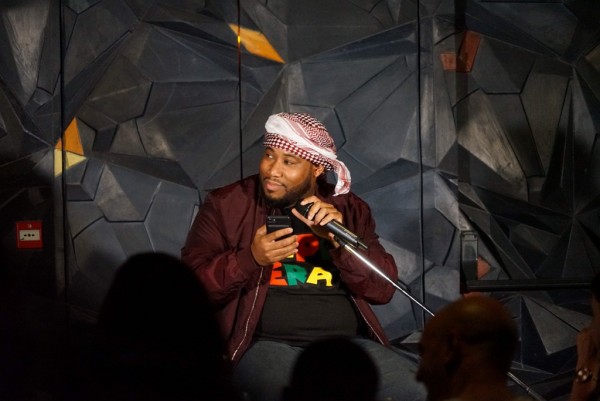 Tai The COMEDYBAWSE is an international comedian/host and content creator. With his snarky dose of humor and unfiltered jokes, he has garnered quite some fan following in the United States and UAE. Known as the crowd sensation in both the countries, he has also made several appearances on TV including NBC and FOX. Currently, Tai lives in Dubai where he is known as one of the Top comedians in all of the Middle East. He has also won win many awards such as the "Best Joke" at the Dubai Short and Sweet Comedy Festival. He also has a YouTube channel with a rapidly growing fan following and some of his most popular videos are "Dubai is Wakanda" and "Star Wars: The Last Jedi private screening in Dubai".
Tai The COMEDYBAWSE has been performing as a comedian since the age of nineteen and over the six years of his career, he has made a fair amount of achievements. He made a debut with his stand-up comedy special "Half Hood" at the 2015 Edinburgh Film Festival Fringe in Scotland. The show was selected as Deuchers IPA's featured festival event.
His quick wit and unique perspective on everyday things grabbed the attention of popular comedians such as Kevin Hart! Tai became the youngest regular at Houston's legendary urban comedy club Jus Jokin', where he performed with top comedy superstars like Kevin Hart and Oscar-winning artist Monique.
At present, he is juggling between multiple gigs throughout the Middle East and is a member of Dubomedy, a renowned comedy troupe in the region. Tai also hosts a monthly show "The Comedy Suite" that features local comedians as well as comedians from the US and the UK. Tai is recognized by the annual UAE Comedy Awards as "The Biggest Hustler" and "Best Social Media". In addition to the many awards and shows, Tai has become the first African American comedian to record a comedy special in the Middle East.
Listen to Tai The COMEDYBAWSE on Spotify and his official website.
Media Contact
Company Name: Comedy Exchange
Contact Person: Keisha Reid
Email: Send Email
Country: United Arab Emirates
Website: msha.ke/comedy_exchange