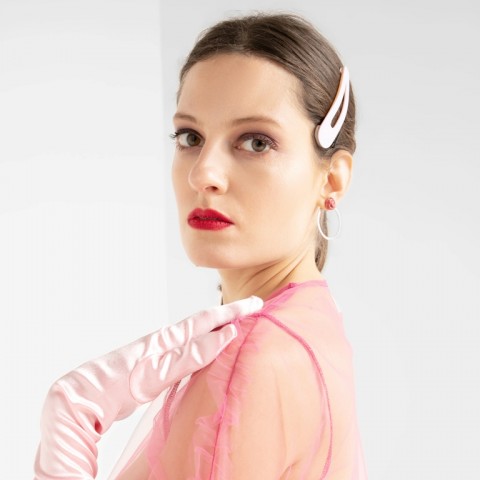 Lilian Syrigou owns an online jewelry boutique by her own name on Etsy.com. She designs and offers handcrafted jewelry that is unique, whimsical and contemporary in style. Since all the products are original designs and handcrafted with utmost precision, the shop features comparatively fewer products as compared to regular jewelry shops on Etsy but without compromising on quality. Lilian uses high-quality metals like silver and bronze with gold, platinum or rhodium plating to create minimalist yet stylish pieces that enhance the appeal of any outfit.
"Beautiful and so unique! Can't wait to wear it. And the packaging is so chic", says one of the customers who ordered Anatomical heart brooch.
One of the featured items on the shop is the multi-strand textile necklace that opens and closes with a high-quality magnetic clasp. This unique necklace is made of polypropylene rope wrapped with cotton and velvet yarn. It is available in Navy Blue, Summer Coral or B&W combo attached to a half-moon pendant made of gold-plated or oxidized bronze
One of her best sellers by far is the 2D earrings, like the Circle ear jackets for example, which can be worn in more than one configuration for a truly unique look. They are crafted from nothing but high-quality materials and they are available for purchase in more than one gorgeous finish option to choose from.
1. Wear both front and back earrings in the front of the ear for a classy statement.
2. Wear just the front stud earrings for a simple and fresh look.
3. Add the back earrings for a special and unique look!
Another best selling item by Lilian Syrigou is the changeable 2D earrings that can be worn in multiple ways, too. The earrings feature a circle with 2 interlocked squares. The squares can be worn stacked on top of each, one to the front and one to the back of the ear for a 2D effect, or as a long linked chain.
Lilian's collection "One day I'll travel the world" includes necklaces and earrings inspired by cities and landmarks around the world, such as Berlin, Athens, Barcelona, Mexico City, Stockholm, New York, London, San Francisco and many more. You may wear your favorite destination and make a statement.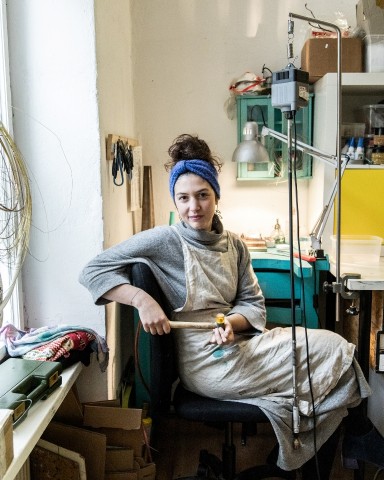 Either the places you have visited, or the next destination to pin on the world map. Only a few pieces of this collection are left in her shop and it is the last chance for the customers to buy them!
A customer who bought a cityscape necklace says in their review, "Beautiful necklace and amazing craftsmanship!"
Have a look at her bright new collection: "Re-Leaf" which is inspired by life, emotions and the beauty of change that lies around us and within us.
The combination of the prefix "re-", which stands for repetition, and the word "leaf", assemble the name of the collection which includes several leaf earrings such as the beech leaf earrings, an anatomical heart necklace and the "Pick it up, Pin it up" lapel pin, a unique contemporary brooch for those minimalist jewelry lovers. Designed to look like a push pin, this is perfect for daily use or for a formal event. Use it to attach a beautiful flower, interesting leaf or fern to your dress or suit lapel
All the jewelry pieces by Lilian Syrigou are sent in a beautiful kraft paper box so it is ready for gifting purposes too. Lilian Syrigou offers earrings, necklaces, and pendants in a variety of unique designs. Born and raised in Athens and Syros, a beautiful island in the Cyclades, Greece, Lilian's designs are highly inspired by the places she has seen growing up. She studied jewelry design in Mokume school in Athens and has been actively involved with art since 2005.
Check out all the products at by Lilian Syrigou at Etsy.com/LilianSyrigou.
IG: liliansyrigou
FB: www.facebook.com/liliansyrigou
Media Contact
Company Name: Lilian Syrigou Art & Handmade Jewellery
Contact Person: Lilian Syrigou
Email: Send Email
Country: Greece
Website: www.madebylilian.com