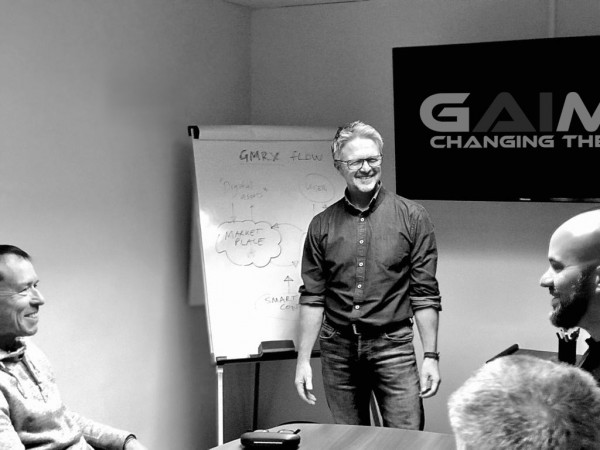 Investor's belief that blockchain technology is the right fit for gaming was given further credence following the meet-up held in Spain on 13 December 2019. Gaimin.io continues to engage with existing and new investors wanting to look deeper into the gaming market. The integration of blockchain and the gaming market is quite simply a game-changer.
Martin Speight, CEO and Calvin Adamus, CPO were both in attendance to meet all the investors. Many of the in-depth discussions were focused on Gaimin.io's position in the blockchain gaming market. Investors, in general, are a lot more informed about blockchain and the cryptocurrency market these days than they were when the project first began to take shape in 2018. Gaimin.io have also used the many online social media platforms to keep investors up to date with developments along with the more traditional newsletter and meet up activities.
The event began with Martin giving an opening speech and an overview of what Gaimin.io had accomplished in 2019 and what the milestones are for 2020. Martin emphasized that Gaimin.io has been working very hard towards their road map. They have completed two successful IEOs in 2019 with Borabit and Nazadax. There were also collaborations and partnerships with game-related organizations; the latest was with the Korea eSports Industry Association.
"We are still alive and pushing our Gaimin agenda to different markets. Unlike many of our competitors, who either disappeared or took a back seat while they wait for the crypto market to go back to the bullish state. We choose to fight our battles at these bearish moments because our gaming community supports us and they want us to continue to excel. We move together with our community!" Martin commented.
Calvin who flew down from Sweden for the meet up, then took over the podium and presented details of the product development, latest user interface and how Gaimin.io want to tackle the Asia gaming market with their new platform. "Blockchain helps buying, selling and exchange of gaming assets with ease and the added security and transparency. Gaimin's platform helps with all the above mentioned and we have a mining and GPU sharing option to allow gamers to earn even more. That's a win-win situation for gamers who are spending hours in the game and when they are resting, they still get to earn!"
Blockcast.cc reporter Joanne also interviewed one of the investors based in Norway, who do not want to be named "Analysts at my venture capital firm once told the board of directors that blockchain technology has transformed the financial market right before our eyes. One of the potential industries that will be affected next will be the gaming market. That is why I am here to find out more and see how we can take part in the whole Gaimin game plan. I don't want to miss the boat."
Gaming is one of the fastest-growing industries right now, and blockchain has opened up new possibilities through a more trusting and open approach. The Gaimin.io investors Spanish meet up was a renowned success. There were also new discussions about investing into the project. To conclude, investors present do not want to simply be observers and are jumping into the blockchain gaming opportunity. For many of them, they consider blockchain as the disruptive breakthrough technology that proves to be the game-changer for a gaming industry that is already in the billions of dollars.
Media Contact
Company Name: Blockcast.cc
Contact Person: Jenny Zheng
Email: Send Email
Phone: +65 98832707
Country: Singapore
Website: https://www.blockcast.cc