Over the past few years, the AI has become a topic among all industries. The appearance of some products has confirmed the increasingly important role AI plays. Earlier, an AI-supported app named Violy caught eyes of violin performers and educators. It has already become popular and keeps spreading among violin communities in various regions.
As an app specializing in musical education industry, Violy's features can assist string instrument students in practice, help teachers in educating process and provide the students' parents with reference. With Violy, some problems existing for long in music education can be handled well.

Video Link: https://www.youtube.com/embed/DbLJIr59jlU
A smart tool with humanistic properties
As a smart app, Violy can evaluate users' performing of each note on intonation and rhythm under "Audition" mode, namely, it can audition music performing. "You can initiate the 'Audition' by playing your instrument. The app is operable with your instrument," said Lvfan Zhou, violin teacher and violist at Shenzhen Symphony Orchestra, who is also a Violy user, "My students always like to play along with the accompaniment. The app allows violin students to practice sectionally and repeatedly." At present some violinists has already started to use Violy for both self-practicing and teaching.
On the other hand, the feature of "Together" indicates Violy's humanistic sides. "All of my students are using Violy now. Through 'Together' I can review their daily practice after lessons," said a violin school owner, "The feature of 'Together' has made it possible for 6 teachers to follow up every practice detail of 120 students."
"Although Violy is a good efficiency driver, it cannot completely replace musical teachers' face-to-face teaching," said Javen Fang, the founder of Violy, "Art and education are people-oriented. Activities related to these fields require people's entire participation. Precisely speaking, Violy app aims to intensify musical teachers' role and work for better effect of face-to-face lessons."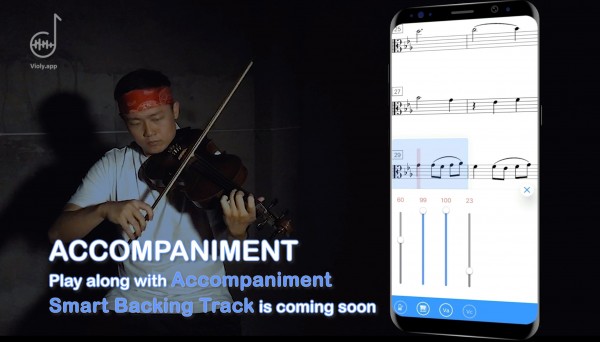 An AI-based app makes music education statistically referable
What also weighs much in musical education is the connection among young instrument students and that between students and their parents, and after-class practicing can be head-scratching for both parties. Young learners are likely to set their instruments aside after weekly lessons and seldom practice unless being pushed. For parents, they may know little about what their children play and find it hard to evaluate. Besides, listening to the 'noise' made by their young learners can be quite unpleasant.

Video Link: https://www.youtube.com/embed/ut5iVRa8sCk
With Violy, these problems can be solved. "I'm not a musician myself, so, honestly I have no idea how I can help my daughter on music, but with Violy I can at least know where she gets troubled," said a violin mom from Mexico, "I can see where the wrong notes my daughter played are, and whether the pitch is higher or lower. She just made great progress using 'Audition' and 'Note-by-note' alternatively. We are both happy for that."
"Since I am poor in music, I could hardly help my daughter with her everyday practicing before and I felt anxious about it," said Javen, "My target of developing Violy is to fix the problem. Now my daughter uses the app for everyday practicing and I can hear her performing at any time, from any where. That means a lot to me. I am also very delighted to see that the app is helping 250,000 users all over the world."
What surprises the most is Violy's "Music Cloud". Almost every violin, viola, and cello piece for beginning level is contained here. According to official information, users can upload sheet music onto Violy App soon.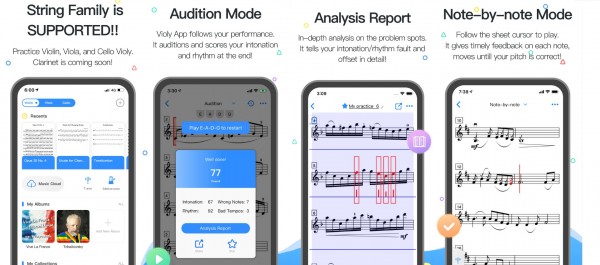 The smart product benefits all people involved in music education. Teachers can find it convenient and efficient checking students' after-class practices and customizing teaching plans for different students. Students may find it encouraging getting higher scores after constant practices and start to practice actively then. Parents can get a relief from urging their kids to practice. With Violy, they do not need to worry about their lack of music knowledge, since the AI-supported product can give professional guidance based on algorithm.
Focusing on the slogan "Violy Practice makes PERFECT!!", Violy helps build a stable learner-teacher-parent triangle. Actually, Its goal is supporting more instruments and providing something more than simple practice assistance. The concept it manifests is always letting users perform happily, effectively and 'violy'.
Media Contact
Company Name: Mango Future Education Technology Co., Ltd
Contact Person: RI TS Mone
Email: Send Email
Phone: 008613127960147
Country: United States
Website: https://violy.app