Fellon Phelps is an American rap recording artist born in Cleveland Ohio who gave us all a Project like the Hollywood Album released independently with 18 original beats that he bought exclusive rights to from different producers out his own pocket that went on to sale over 100,000 music downloads on Wildchildtv.com in 2016 then he followed up with singles like Lebron James, Snap Chat, King of Ohio Pt.1, and 36, in 2017 and 2018 then We Not Cool, Gmail, and Whatever in 2019.
Alleged member of the notorious Black Mafia Family Rapper/Entertainer Fellon Phelps is back stronger than ever with The Downfall Mixtape, and King of Ohio Part 2 dropping 1-1-2020 on all major music platforms worldwide and is his best music so far go pre-order now on his record label Wild Child LLC website Wildchildtv.com and trust us you want to be disappointed it's high quality every time.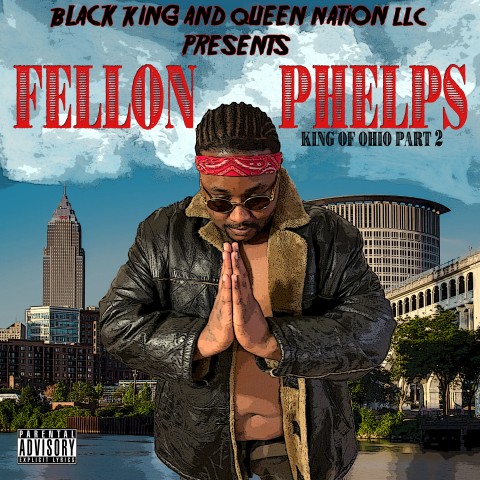 Fellon Phelps mainly grew up off a street called St Clair mentioned by Bone Thugs n Harmony discovered by Eazy-E of N.W.A in the early 90's and also new generation rap artist Q Money, Fellon also tried to pursue playing football at Shaker Hts with his childhood friend you might know as Kid Cudi before being snitched on by suburban kids and kicked out by the Superintendent for physical violence.
Fellon Phelps is straight forward with a serious personality but with a sense of humor a person you can even laugh with Fellon Phelps is known for being very street savy, very lyrical, and very musically diverse never rapping the same way or on the same type beats always switching his style up entertaining even us picky Hip-Hop heads.
Fellon Phelps has gained a cult following in places such as Charlotte North Carolina, Cleveland Ohio, Miami Florida, Detroit Michigan, Los Angeles California, Las Vegas Nevada, Houston Texas, Chicago Illinois, Nashville Tennessee, Atlanta Georgia, Toronto Canada, London United Kingdom, Mexico City Mexico, Cali Columbia, Paris France, and Berlin Germany where most of his music streams and sales come from his King of Ohio tour is coming fall 2020.
For more information, follow:
https://www.instagram.com/fellonphelps216/?hl=en
https://m.youtube.com/channel/UC2yar5NvD4K3zrYqCML7waw
https://twitter.com/FellonPhelps216?s=09
https://www.snapchat.com/add/fellonphelps216
https://www.mcssl.com/store/22978473/fellon-phelps-king-of-ohio-part-2
https://open.spotify.com/artist/4cMZVDFSAexxUj5vlXcbHx?si=MNFwn-boR0atX1Tcym9Wng
Media Contact
Company Name: Black King and Queen Nation LLC
Contact Person: Keedoe or Jonel
Email: Send Email
State: Ohio
Country: United States
Website: https://www.mcssl.com/store/22978473/fellon-phelps-king-of-ohio-part-2