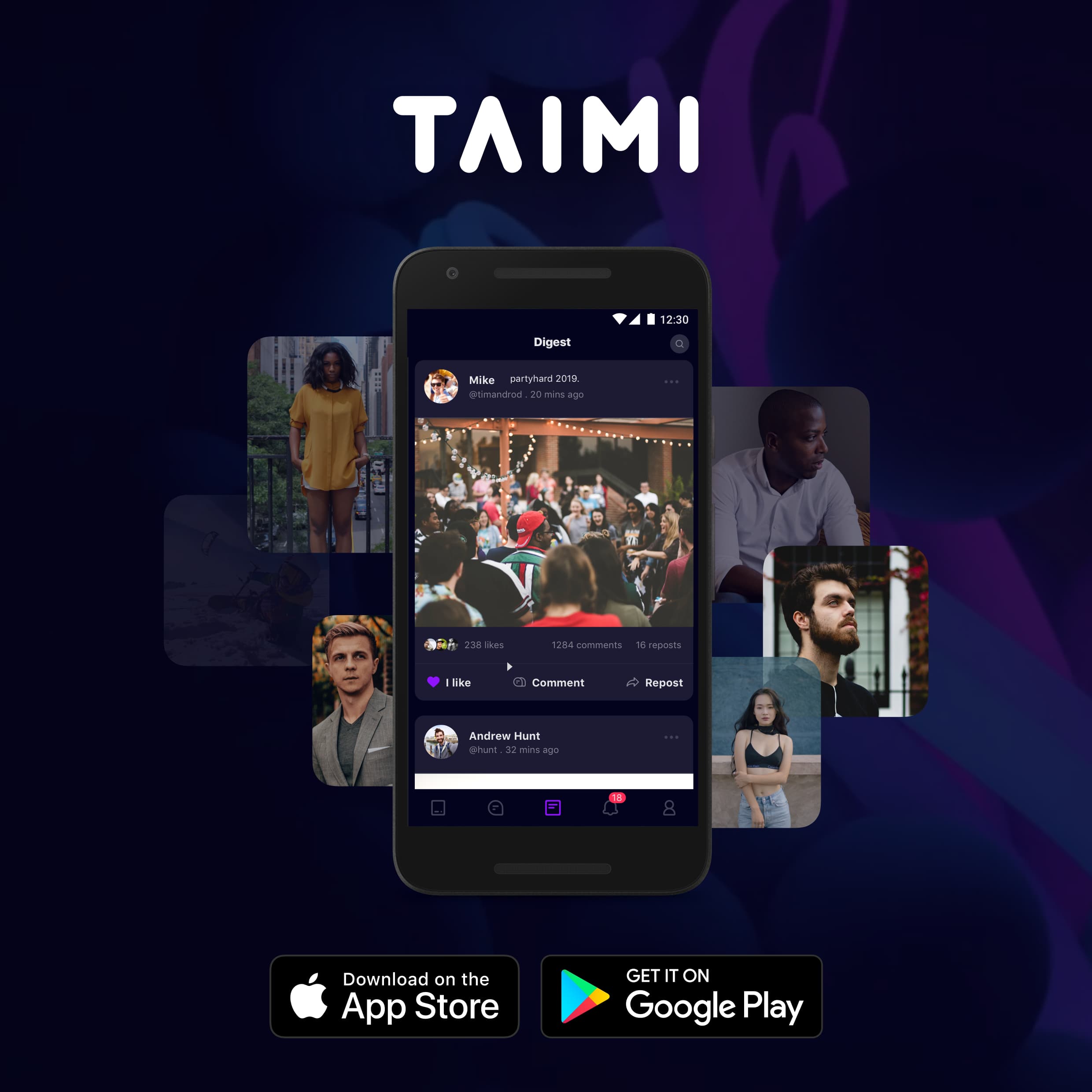 The LGBTQI+ Community Platform Which is Available in Europe, North and South America, Australia, New Zealand and Singapore Wants to Spread the Message of Love and Equality to All Continents
TAIMI, the World's first LGBTQI+ social networking and dating app that offers everyone the ability to form deep connections is seeking ambassadors and partners to help push its message of love and equality.
This call to action comes in the footsteps of a recent partnership with GAY TIMES. During the Gay Times Honours 500 held in London, United Kingdom TAIMI sponsored a British Trailblazer honour that rightfully went to Anick Soni – activist, creator and researcher. TAIMI is also working on several initiatives in support of its social mission to combat homophobia on a global scale.
In addition to TAIMI's ongoing push to fight against homophobia around the world, the company joined forces with AZ Magazine on a project called I Am Here. The project's heroes come from different walks of life. Their stories are the stories everyone can relate to on a deeply personal level regardless of ethnic background, sexual orientation or gender identity.
TAIMI is actively pursuing all aspects of its social mission to raise awareness of LGBTQI+ issues, promote equal rights and combat homophobia. This coming spring TAIMI will be a part of LGBTQ North East Awards where TAIMI is one of the event sponsors.
For companies, organizations and media interested in joining TAIMI please reach out to the company via e-mail: partnerships@taimi.com or contact public relations team: pr@taimi.com Influencers, activists and celebrities may also email: influencers@taimi.com
TAIMI is not only a safe space for LGBTQI+ people with several layers of verification, 24/7 profile moderation, around-the-clock live support, and PIN/Fingerprint/Face recognition.
TAIMI is an app that includes video calls, stories, digest, and groups. The app's users can also upload private albums that will only be seen by those they grant permission to.
TAIMI also recently added Spotify Integration and TAIMI Spot which allow users to change their location during their travel. In the near future, TAIMI's users will see updates that will provide informational and educational content including event calendars, helpful tips, travel advisories and useful phrases.
To find out more about TAIMI visit our official website, or download the app here.
You can also follow TAIMI on Facebook, Instagram and Twitter.
ABOUT TAIMI:
TAIMI has several layers of verification, 24/7 profile moderation, around-the-clock live support, and PIN/Fingerprint/Face recognition. TAIMI has zero-tolerance for judgment, discrimination, hate or aggression.
TAIMI is free and available to download in the App Store and Google Play. A subscription-based premium version is also available.
Media Contact
Company Name: TAIMI | SOCIAL IMPACT, INC.
Contact Person: Media Relations
Email: Send Email
Phone: 7027107676
Address:1180 North Town Center Drive Suite 100
City: Las Vegas
State: NV
Country: United States
Website: www.taimi.com