Today I had the opportunity to sit down with one of the youngest and most successful agency owners out of Canada today, Yaman Abuibaid. Yaman and his partner Joseph Ierfino co-own Deluxe Realty Marketing, an almost 7 figure agency based out of Niagara Falls, Ontario. Their company specializes in handling real estate agents' marketing and ultimately increase their monthly deals.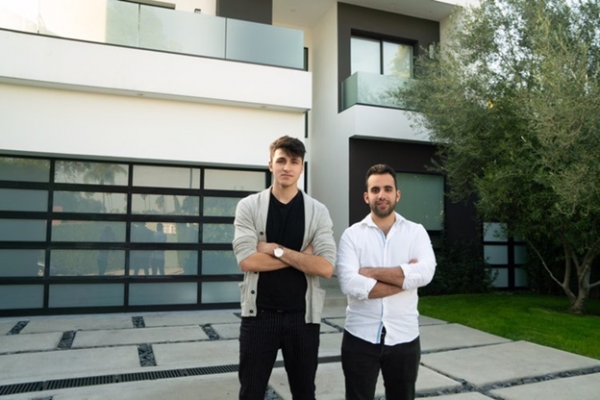 Yaman, thanks for taking the time to sit down with me today, it's a pleasure to have you. How are you doing?
I'm doing great, It's an honour to be here! How are you?
Great, thanks so much, can you start off by introducing yourself?
I'm 19 years old and live in Niagara Falls, Ontario. I've been self-employed for the last 6 years and constantly learning more and more in the business world. I love the concept of being able to get up and go without being tied down to anything so Joseph and I have spent the last year travelling across North America and becoming more worldly. I've always had a passion for digital marketing and real estate, and decided to pursue both after graduating from high school.
How was Deluxe Reality Marketing born, what made you and Joseph want to start the company?
Joseph and I have been running ad campaigns and helping businesses grow for the last 6 years. Two years ago we were contacted by a local realtor to help him increase his monthly deals, so we came up with a strategy and within a few days, we had about 20 interested buyers. At that moment we both knew that we wanted to pursue the real estate industry and so we immersed ourselves in it.
That's astounding, you've experienced some great success early on. Why have you been able to grow so fast?
Joseph and I have been studying successful realtor habits and techniques for two years now, and always try to provide as much value as possible to our real estate clients. We simply over-deliver and in return, our happy clients stay with us and pass on our name.
What makes you different than all of the other real estate agencies out there currently?
Many of the marketing agencies only delivery leads to the realtor and tell them to have a nice day. We believe we stand out because our team handles the follow up process and contacts the leads to qualify them, which can take off over 20 hours from an agents' week. Time that the agent can spend with their families or other aspects of their business.
Do you make any promises to your clients or is your work risk intensive?
Before we sign on any realtor, we research their market to make sure we're able to over deliver. Researching their market takes away the risk, and we promise that we'll deliver them high quality buyers or sellers with qualified appointments.
Wow! Really? No wonder you've seen such a high level of success. Now tell me, why is it that real estate agents even need your services?
Real estate agents are busy people. They need to balance their work life, personal life and can't do a million things at once. We take the dirty work off their hands, which is the marketing aspect. Majority of real estate agents don't enjoy cold calling, door knocking or running their own ad campaigns. They're people smart, they enjoy building relationships and being face-to-face with clients. We run their ad campaigns and book the meetings for them so they can focus on what they do best, which is sell homes.
What cities do you currently have clients in? Do you have a limit to how many agents you can work with in a single area?
We currently work with realtors in Niagara, Toronto, Greater Toronto Area, Vancouver, Calgary, Los Angeles, San Diego, Las Vegas, Boston, Denver and are actively looking to expand in other markets. We can only sign on 5-10 agents per area depending on the population size. We wouldn't want to create competition between clients that we work with.
What advice do you have for realtors to help them get better results?
They need to have a solid follow up process in place to work their leads and nurture them to closing. For example, If the prospect is 6 months out to buying a home, the realtor should be contacting them every 3 weeks to check in and help them with their home search. Building a personal connection is key to a real estate transaction. It's a very competitive industry and the agent will need to be in-front of the prospect right away when they need them.
I completely agree, creating a personal connection in almost any business is key. My last question for you Yaman is what plans do you have for Deluxe Realty Marketing?
Joseph and I met with Jordan Belfort's team at his Beverly Hills office a few days ago and are working in partnership to have our real estate agents go through his world-class sales training. We're constantly trying to improve our services and incorporating sales training looks like a promising next step.
Wow, the Wolf of Wall Street? That's amazing. Thank you for sitting down with me today Yaman, it's been a pleasure. Best of luck for you and Joseph!
Media Contact
Company Name: Staiber Consulting
Contact Person: Joe Staiber
Email: Send Email
Address:2000 Valley Forge Circle
City: Valley Forge
State: PA
Country: United States
Website: www.staiberrconsulting.com