The idea that disabled people have a huge amount to be proud of is something that's often forgotten. Ms. Wheelchair Maryland USA Ola Ojewumi is helping to remind people of that fact with her new disability pride clothing line.
Beltsville, MD – December 20, 2019 – There's no shame in disability. In fact, according to the new Disability Pride apparel line Ola's Truth, disabled people do heroic things to be proud of all of the time. And Ola's Truth, founded by Ms. Wheelchair Maryland USA Ola Ojewumi, is making it easier than ever to show the world a person's proud of who they are, disabilities, and all.
Ojewumi is no stranger to disability. At 28 years old, she has lived through more than one near-death experience. In middle school, she survived a heart and kidney transplant. In her mid-twenties, Ola was treated for a rare post-transplant cancer at Johns Hopkins Hospital. Once ashamed of her disability in childhood, she's come to embrace her disability.
"I created Ola's Truth because I was tired of disabled people being ignored in fashion and activism," commented the passionate Ojewumi. "There is such a negative connotation with the word disabled as if it's something to be ashamed of. There is a disability pride movement where people with disabilities are reclaiming the identity and saying I'm proud to disabled, and I will no longer hide who I am."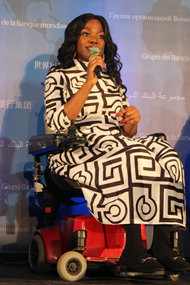 The apparel line's online store is packed with inspiring choices. She continued, explaining some common misconceptions about disabilities, "Disability is more than just using a wheelchair, crutches, or visible. Chronic illnesses and things like depression and bipolar disorder are valid disabilities that are hidden due to shame. Ola's Truth apparel allows customers to come out of the closet and share their disability without fear of being told that whatever illness they have is not a disability. The clothing line is called Ola's Truth because it's about living your authentic truth and not hiding your disability out of fear of judgment.
Highlights at the new online boutique include men and women's t-shirts, polos, sweatshirts, and hoodies; kids and baby apparel; bags, caps, and other accessories; cases; wall art; and much more. New designs are added very frequently, and the eye-catching art is winning praise all of the time.
All orders even have a 30-day no-hassle return policy.
The boutique strongly advocates for disability marriage equality. Disabled people on public assistance can't get married without risk of losing housing benefits, welfare, and SSI. Changing this law would make many disabled people's lives much more fulfilled and happier.
For more information or to order products please visit https://www.olaojewumi.com
Media Contact
Company Name: Ola's Truth
Contact Person: Media Relations
Email: Send Email
Phone: 301-395-8548
City: Beltsville
State: MD
Country: United States
Website: www.olastruth.com/shop