December 26, 2019 – Built by auto dealers, for dealers. There aren't many marketing services like DealersGear, which allows a centralized, lead-generation based digital platform utilizing the best known channels for increasing sales and revenue. DealersGear, the first all-in-one marketing platform for auto dealers is pleased to present its digital marketing solutions with a proven track record.
No business today can afford to ignore digital platforms, which have become the primary way for consumers to shop. Auto dealers have until now relied more on conventional marketing methods, but are fast adopting digital ads and channels to stay in business. The reason: go where the consumers are.
Digital marketing is also cheaper than conventional methods, apart from being targeted and more effective. Consumers in fact are looking to be served via digital channels. To begin with, auto dealers can utilize existing OEM promotional materials of the brands they sell. Another way is to make better use of business development centers.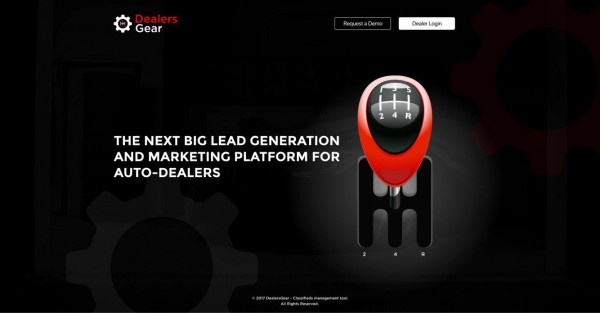 The two hot channels auto dealers can utilize are Craiglist and search engine rankings. Craiglist is ideal for advertising cheap, used local cars and vehicles, and can even lead to new car sales or leases. The second big channel is the traffic driven by Google and other search engines. The competition here is intense, with an average buyer visiting only two dealerships for a new vehicle.
The most innovative and all comprehensive platform is DealersGear. This is a one-stop shop for every digital marketing requirement, from responsive and fast websites, auto SEO, posting tools for Craiglist and Facebook to call tracking, inventory management and more. The platform has 8 tools already integrated in one dashboard to give hands on all your marketing channels in one central command.
"Our website platform is built based on thousands of car-shoppers surveys, which was conducted to study their behavior on the web, their click actions and the time they spent on the site. As a centralized command center for managing online presence, it is the first one of its kind," says Josh Silver of DealersGear.
Built on a lead generating infrastructure and dashboard, DealersGear specializes in building such intelligent platforms that increase calls, texts and clicks. The digital platforms are then complemented with business development centers and sales training for real world success.
"DealersGear doesn't only offer you the solutions but also helps you understand your demographics. The technology was built by dealers for dealers with a team of top UCLA graduates, along with expert feedback that is industry proven every step of the way," says Josh.
About
DealersGear is the first all-in-one, marketing solution that was built by dealers for dealers. This solution enables dealers to manage their digital presence, manage their inventory, and manage their websites from one central command center. Our company provides products from multimedia management, inventory management, intelligent Auto dealers websites, posting tools to Craigslist, Facebook, and everything else in between.
For more information, visit: www.dealersgear.com
Media Contact
Company Name: DealersGear
Contact Person: Josh Silver
Email: Send Email
Address:2091 Business Center Dr #110
City: Irvine
State: CA
Country: United States
Website: https://www.dealersgear.com/