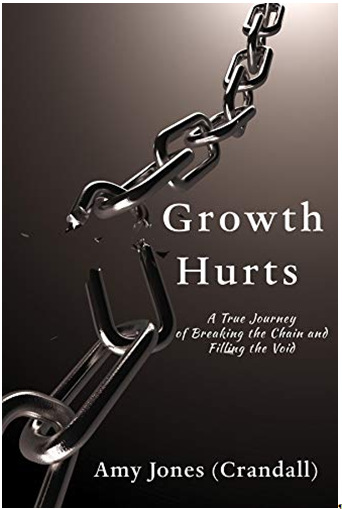 December 27, 2019 – Life is all about beating the odds – some overcoming of the odds are more significant than others, and when their stories of perseverance are told, it becomes inspiring. Growth Hurts: A True Journey of Breaking the Chain and Filling the Void is such a story. Written by Amy Jones (Crandall), the book recounts Amy Jones' life story involving alcoholic parents. While her mother succumbed to her addiction, taking her own life, her father 'broke the chain' and became sober. He went on to become a multi-millionaire. Amy took after her father. This book is a true story put together by Jones to help anyone battling with suicide loss, alcoholism, addiction, unhappiness, tragedy, or loss of faith.
In authoring, Growth Hurts: A True Journey of Breaking the Chain and Filling the Void, Amy Jones presents raw and real accounts of her life without hiding or holding back anything. Amy says that her book is a class apart from other books available in the market because it reflects traumas that many people go through. She adds that she had written it from a first-person point of view. It's very much authentic.
When asked how Growth Hurts: A True Journey of Breaking the Chain and Filling the Void came into being, from writing to publishing, Amy Jones says, "It was something unplanned. I didn't WANT to write a book. I was taking a bath and saw the cover with the broken Chain and started it that evening. A few months later, it was complete. Serendipitously." She adds that every word in the book was her life, that it is a real collection of stories.
Amy Jones enjoys living her life, and she loves it as well, looking for reasons every day to enjoy the day, even amongst difficulty and turmoil. Her favorite quote is, "It's not what you can do when you feel like it; it's what you can do when you don't."
For more information, visit Amazon book link https://www.amazon.com/Growth-Hurts-Journey-Breaking-Filling-ebook/dp/B07WW2MMSW/ref=tmm_kin_swatch_0?_encoding=UTF8&qid=1569961563&sr=
About the author
Amy Jones is a Suicide Loss Survivor who went through deep depths of despair after her mother killed herself. She believed many unhealthy lessons from her childhood until she was able to shift those beliefs in her early adult life. Amy has since become a successful business owner, real estate investor, mother, and 2nd Degree Black belt in Taekwondo. She took adversity and used those skills to build a successful and balanced life.
For more about the author, visit http://growthhurts.com/author
Social Media Accounts:
Facebook: https://www.facebook.com/Amy-Jones-Crandall-115751906500554
Twitter: https://twitter.com/Author_Crandall
Tumblr: https://authoracrandall.tumblr.com
Links for additional reference:
YouTube Channel: https://www.youtube.com/watch?v=X0NNjZZMJH8
About GOLDTOUCH PRESS, LLC
GOLDTOUCH PRESS, LLC is an established and experienced group of various publishing houses who teamed up to bring their clients accessible and competitive author services.
Media Contact
Company Name: GOLDTOUCH PRESS, LLC
Contact Person: Amy Jones
Email: Send Email
Phone: 888-404-1388
Address:420 Lexington Avenue, Suite 300
City: New York
State: NY 10170
Country: United States
Website: https://www.goldtouchpress.com/