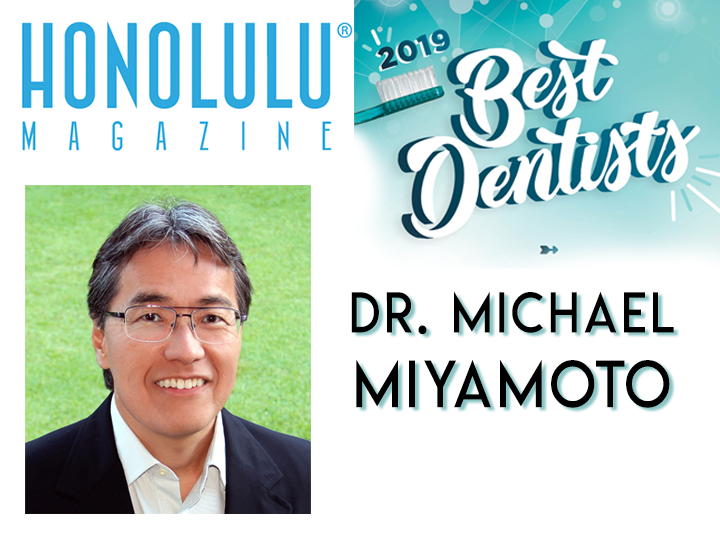 "Dentist Wailuku Maui, Dr. Michael Miyamoto was named one of Honolulu Magazine's 2019 Best Dentists."
For the seventh time, Dr. Michael Miyamoto received the Best Dentists award in Honolulu Magazine. He has been in practice for over 30 years, working at his family practice, the Miyamoto Dental Design Suite.
Miyamoto Dental Design Suite owner and passionate second generation family dentist Dr. Michael Miyamoto has made it to the top again this year and has been named a 2019 Top Dentist by Honolulu Magazine. He has received the same award in previous years, including 2018, making this the seventh time in which he bears the title.
Dr. Miyamoto's dentistry philosophy is just one of the obvious reasons why he is among the leading dentists in Maui. He believes in offering his patients 'State of the Art Dental Care' which has produced youthful and radiant smiles on his patents' faces, giving them a new lease on life.
He offers general and preventative, cosmetic, and restorative dentistry, as well as specialized treatments. His experience of 30 years has given him a special touch for TMJ/TMD treatment, yet another reason why the people of Maui consider him their preferred expert. They describe him as delivering "relaxed confident professionalism that exceeds your highest expectations."
This was the experience that Nicole, an 11-year-old girl had while receiving treatment from Dr. Miyamoto. She had suffered persistent migraine headaches for 5 years, despite being under the care of several specialists including a pediatrician, neurologist, pediatric neurologist, and gastroenterologist, as well as a masseuse.
After taking considerable time to talk and patiently listen to Nicole, a proper diagnosis was made by Dr. Miyamoto, and treatment commenced. His application of the latest technological innovations in the dental world allowed him to prepare a custom-designed oral appliance that Nicole could wear even while she ate and slept. This stabilized her jaw and jaw joint while aligning it to her specific jaw trajectory, relaxing her muscles and nerves.
In under two months, Nicole couldn't believe that all her persistent migraines were gone. The tension headaches, head and muscle pain, also disappeared. Her mother was amazed at how well her daughter was sleeping, and the snoring was gone! Within no time, Nicole stopped all other medication and became a happier and bubblier girl with an improved posture.
Miyamoto Dental Design Suite is positively unique for another reason. It is family-run and was established by Dr. Alan Miyamoto, the father to the 2019 Top Dentist. Just last year, Dr. Michael Miyamoto was joined by his daughter, Dr. Courtney Miyamoto, who graduated with two distinctions from the University of Maryland, School of Dentistry (UMSOD). The family's commitment and passion for professional dentistry is something that many admire. This addition continued the family legacy of the Miyamoto dental practice, which now has three generations to its name.
Dr. Miyamoto is also passionate about the welfare of the Maui community, partnering with the Maui Food Bank. In December, for instance, he ran a campaign that sought to replenish the food bank. The Miyamoto Dental Design Suite gave a $100 gift certificate toward any dental service whenever patients made a $5 donation to the food bank.
Dr. Miyamoto is a member of eight professional associations including Occlusion Connections, the American Academy of Cosmetic Dentistry and the Las Vegas Institute for Advanced Dental Studies (LVI). He has also received a Gamma Pi Delta Prosthodontic Honor Society Award. When Dr. Miyamoto is not in the dental clinic, he can be found paddle boarding, diving, surfing, or playing the guitar. He also loves traveling with his family.
More about Dr. Miyamoto and the dental services he offers can be accessed at http://mymauidentist.com/
Media Contact
Company Name: Miyamoto Dental Design Suite
Contact Person: Michael R Miyamoto DDS
Email: Send Email
Phone: (808) 242-7007
Address:1885 Main St #203
City: Wailuku
State: HI
Country: United States
Website: http://mymauidentist.com/