January 13, 2020 – 'Addicted to Sets' is a podcast covering the passions of tennis fans and players, co-hosted by avid tennis enthusiast Michelle Nipko and teaching pro Ryan Vega just outside of Austin, Texas. In its most recent episode, the podcast features Cliff Drysdale, International Tennis Hall of Fame legend and the longest serving broadcaster at ESPN.
Cliff began by talking about how his broadcasting career started during a Davis Cup match between USA and South Africa. Tony Trabert could not be the commentator for this match as he had been the captain of the USA Davis Cup team. Cliff was thus asked if he could take Trabert's place as he was also from South Africa and knew the players.
This was forty years ago, and Cliff could have never imagined it would be the start of a pivot in his career. He went on to cover the US Open for CBS ("they thought it was awful!"). He was subsequently picked up by ESPN and WCT ("in those days, there was no cable"). Drysdale was on the job just one week after ESPN debuted for their first tennis telecast when Argentina took on USA at the 1979 Davis Cup in Memphis, Tennessee.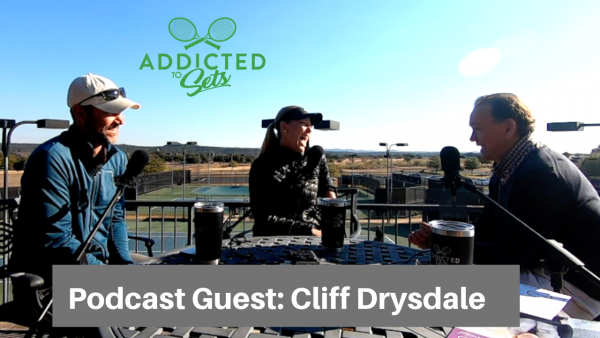 Drysdale was one of the first players to introduce a two-handed backhand in professional competition. Though there were others, Drysdale counts himself as the first successful tennis player to have used this technique. He shares another unique aspect of the 1960s tennis scene: there were no coaches, masseurs, managers or psychologists.
Among other topics, Cliff spoke about his experiences as the first ATP President, the recent bushfires in Australia, winners' awards and prize moneys, the importance of big serves and muscle power in the game, Nick Kyrgios, the players to watch out for today in men's and women's tournaments, and more.
Parting advice from Cliff Drysdale: "Be yourself. Go with the flow. Like a tennis player needs to trust his or her swing."
The podcast with Cliff Drysdale will be of great interest to tennis and sports enthusiasts and can be heard on Apple Podcasts among other podcast channels and viewed on the Addicted to Sets YouTube Channel.
For more information, please visit: www.addicted-to-sets.com
Media Contact
Company Name: Addicted to Sets
Contact Person: Michelle Nipko
Email: Send Email
Phone: (512) 662-1645?
Address:25608 Kahala Sunset Court
City: Spicewood
State: TX 78669
Country: United States
Website: https://addicted-to-sets.com/