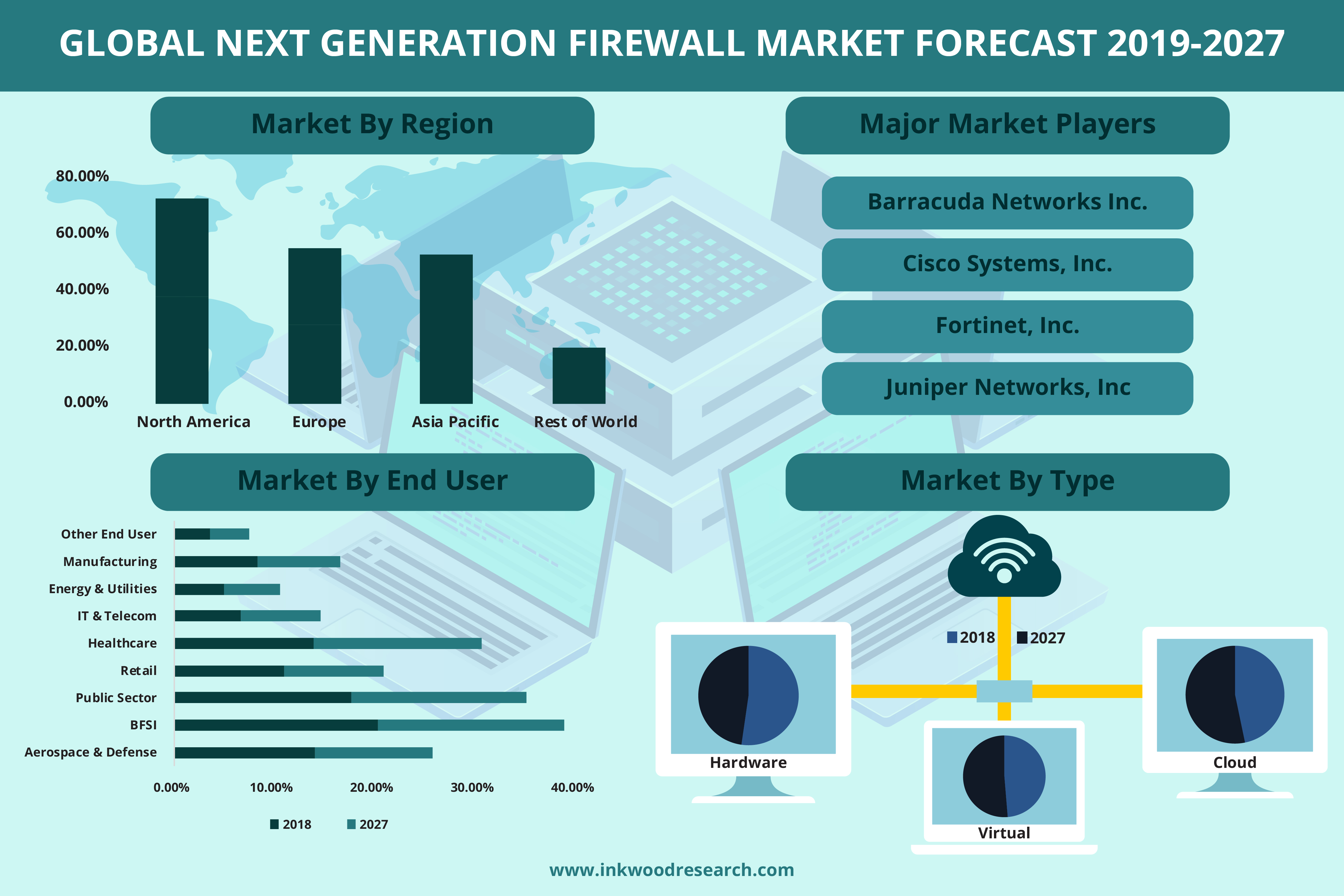 "Global Next-Generation Firewall Market is projected to evolve at a CAGR of 12.18% throughout the estimated years of 2019-2027, generating revenue around $7441.82 million by 2027."
According to a new market research report launched by Inkwood Research, the Global Next Generation Firewall Market is projected to evolve at a CAGR of 12.18% throughout the estimated years of 2019-2027, generating revenue around $7441.82 million by 2027.
Browse 29 market data Tables and 38 figures spread over 100Pages, along with in-depth analysis on Global Next-Generation firewall Market by Components (Solution, Services) by Organization Size (Large Enterprises, Small and Medium Enterprises) by Type (Hardware, Virtual, Cloud) by End User (Aerospace and Defence, Banking, Financial Services & Insurance, Public Sector, Retail, Healthcare, IT & Telecom, Energy and Utilities, Manufacturing, Other End-User ) & by Geography.
This insightful market research report by Inkwood Research focuses on market trends, leading players, supply chain trends, technological innovations, key developments, and future strategies. The report covers all the aspects of this comprehensive market, by assessing major geographies, and is a valuable asset for the existing players, new entrants, and future investors. The study presents a detailed market analysis, with inputs derived from industry professionals across the value chain.
Global Next-Generation Firewall Market Scenario
The next-generation firewall (NGFW) is a third-generation network firewall technology with capabilities to identify and restrict complex attacks, integrated with security measures at various levels, such as protocol, port and application. The technology also possesses additional capabilities, which include application-level traffic inspection, in-line deep packet inspection and intrusion prevention (IPS). The increasing demand for cloud-based services, a significant rise in network attacks and evolving business environments are the top drivers proliferating the market growth globally.
The Global Next-Generation Firewall (NGFW) Market report provides data tables and includes charts and graphs for visual analysis.
Request Free Sample Report for Global Next-Generation Firewall (NGFW) Market by Components, Organization Size, Type, End-User & by Geography:
Market Segmentation
Market by Organization Size:
Small & Medium Enterprises (SMEs)
Large Enterprises
Market by Components:
Market by End-User:
BFSI
Aerospace & Defense
Public Sector
Healthcare
Manufacturing
Retail
Energy & Utilities
IT & Telecom
Other End User
Market by Type:
Report Highlights
– The report provides a detailed analysis of the current and future market trends, to identify the investment opportunities
– Market forecasts till 2027, using estimated market values as the base numbers
– Key market trends across the business segments, regions and countries
– Key developments and strategies observed in the market
– Market dynamics such as drivers, restraints, opportunities and other trends
– In-depth company profiles of key players and upcoming prominent players
– Growth prospects among the emerging nations through 2027
Companies Profiled
UNTANGLE INC.
DELL TECHNOLOGIES
FORTINET, INC.
PALO ALTO NETWORKS, INC.
WATCHGUARD TECHNOLOGIES INC.
SONICWALL INC.
GAJSHIELD INFOTECH (I) PVT. LTD.
SOPHOS TECHNOLOGIES PVT. LTD. (CYBEROAM)
HILLSTONE NETWORKS
CHECK POINT SOFTWARE TECHNOLOGIES LTD.
JUNIPER NETWORKS, INC.
BARRACUDA NETWORKS INC.
CISCO SYSTEMS, INC.
FORCEPOINT LLC
ZSCALER, INC.
HUAWEI TECHNOLOGIES CO. LTD.
Related Reports
ADVANCED PERSISTENT THREAT (APT) PROTECTION MARKET – The APT (advanced persistent threat protection market is anticipated to evolve with 18.07% of CAGR throughout the forecasting years 2018-2026.
GLOBAL DISASTER RECOVERY AS A SERVICE MARKET – The disaster recovery as a service global market is projected to garner a CAGR of 35.42% during the estimated years of 2018-2026.
GLOBAL CYBER SECURITY MARKET – According to Inkwood Research, the global cybersecurity market is advancing at a growth rate of 10.44% over the projected years.
GLOBAL BIOMETRICS MARKET – As per Inkwood Research study, the global market for biometrics is propelling at 19.21% of CAGR, generating revenue of around $72.66 billion by 2027.
Media Contact
Company Name: Inkwood Research
Contact Person: Clive Cooper
Email: Send Email
Phone: +1 857-302-4704
City: Boston
State: MA
Country: United States
Website: https://www.inkwoodresearch.com/