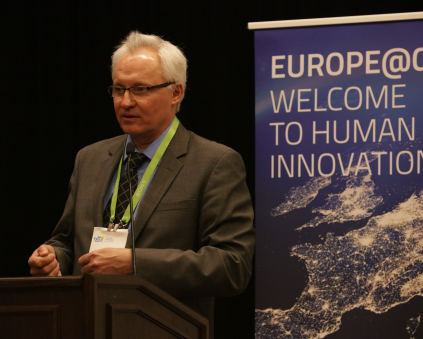 INTRODUCING A PIPELINE OF NANOTECHNOLOGIES: From the suppression of global warming effects to energy storage, smart grid electrification of the globe and faster airplanes
LAS VEGAS – MACOMA Environmental Technologies is proud to host the U.S. press conference featuring world-renowned scientist Jan Prochazka. Dr. Prochazka will address how to fight global warming effects and air pollution in a practical way with the FN® Nano Photocatalytic Coating nanotechnology. He will also introduce his second sustainable energy innovation – HE3DA® Lithium-ion battery. This technology allows the storage of sustainable energy in a fully recyclable, robust and inherently safe way.
Dr. Prochazka possesses Master of Science (MS) degree and a Doctorate (Ph.D.) in Inorganic Chemistry. His areas of expertise include inorganic chemistry, nanotechnology, environmental and life sciences and next-gen energy storage solutions. With over 35 years of experience developing patented technologies within the private sector, Dr. Prochazka has worked with notable US companies, including BHB Billiton, Altairnano, and FN® Nano, as a Senior Research Scientist and President.
His impressive career accomplishments include more than 200 patents and 20 scientific publications. In 2017, Dr. Prochazka was awarded a Silver Medal from the Czech Republic Senate for his lifetime contributions to international science. He also received a Gold Medal for science achievements from the president of the Czech Republic. He is the winner of the 2019 National Award for Innovation at the European Business Awards.
PRESS CONFERENCE ON ENVIRONMENTAL NANOTECHNOLOGIES IMPROVING:
⦁ Air quality
⦁ Water purity
⦁ Climate in cities
⦁ Energy storage efficiency
⦁ Jet engine propulsion
SPECIAL GUESTS: Jan Prochazka, Ph.D. (FN® Nano, Inc.), Lenka Somolova, J.D., MBA MA (Power Orbital, Inc.)
SPEAKERS: Dr. Olga Martin, Ph.D. and Vivian Palmer, MBA (MACOMA Environmental Technologies)
WHEN: January 14, 2020 10:00am
WHERE: 3920 E. Patrick Lane, Las Vegas, NV 89120
FN® Nano Technology makes a difference in transforming any building into an air purifier. The photocatalytic process actively cleans indoor and outdoor air, reduces greenhouse gases and helps mitigate the impact of rising global temperatures. FN® NANO coatings are manufactured in Reno, Nevada. We have demonstrated the universal use of FN® Nanotechnology as a measure for urban cooling (to combat the Urban Heat Island Effect).
HE3DA®Technology represents an advanced, high-capacity, robust and low-cost lithium-ion battery manufacturing process. It is the next generation in battery technology for energy storage and Smart Grid applications. HE3DA batteries are currently used to power the formerly NASA-funded project for UNLV's biological research in the Great Boiling Spring facility at Camp David.
Power Orbital is the exclusive U.S., Mexico, and Canada manufacturer of HE3DA® batteries. They are currently in the process of raising capital to build a second 1.2 GWh factory for the U.S. market. Power Orbital, together with HE3DA® USA, was a chosen a 2019 Top 10 Finalist in NASAiTech competition for it's innovative, safe and sustainable approach in storing green energy: www.powerorbital.com
MACOMA Environmental Technologies is the exclusive USA distributor of FN® Nano Coatings.
For more information, please visit www.macoma.us
Media Contact
Company Name: MACOMA Environmental Technologies
Contact Person: Vivian Palmer
Email: Send Email
Phone: 702-951-1401
Country: United States
Website: http://www.macoma.us/