Armand King has completed his book "Raised In Pimp City," a deeply personal memoir of Human Trafficking, Gang Violence & Prostitution. This book is a cautionary tale exposing the unfathomable pain and the predatory dangers caused by the horrors of human trafficking.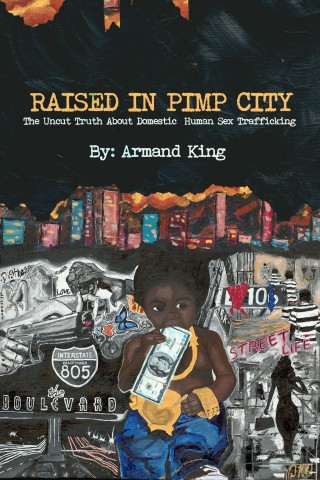 Self-Published by the author, Armand King's new book is an illuminating motivation written for the readers to realize the dangers associated with human trafficking. Armand King has completely transformed his life from a former human trafficker and gang member to founding a non-profit organization 'Paving Great Futures' and has written this raw uncut book to help others from falling into the trap of exploitation as he and his friends did.
Author Armand King shares insightful notions about human trafficking: "This true story follows the lives of individuals both male and female that were forced into the trade. Not by enslavement and not at gunpoint but forced by the simple denial of the real "American Dream" and poor education! It's said in order to get rid of a weed you must take it out from its root. This book not only tells a story that's never been told but also brings the readers face to face with the root of what we call Domestic Human Trafficking so we can truly prevent and intervene in the continuous growth of this weed."
Every page of "Raised In Pimp City" is written with Author Armand King's personal touch such that either one read this book from anywhere; the message will touch the depth of one's heart in numerous ways. People that truly want to help fight human trafficking and exploitation should endeavor to buy this book.
"Raised In Pimp City" is published and can be purchased all over the world. Readers who wish to experience this potent work will be able to purchase it at https://raisedinpimpcity.com/.
For additional information or inquiries about "Raised In Pimp City" or the author, please visit https://raisedinpimpcity.com/.
About the Author
Armand King is a former human trafficker and gang member who now owns a non-profit organization. With over two decades of first-hand experience dealing with gangs and the domestic human trafficking lifestyle, he uses his knowledge to help transform lives for the better, build healthier communities, and train others to do the same.
Media Contact
Company Name: Ariginal One Publishing
Contact Person: Armand King
Email: Send Email
Phone: 619.288.3187
Address:2307 Fenton Prkwy 107-8
City: San Diego
State: CA 92108
Country: United States
Website: raisedinpimpcity.com