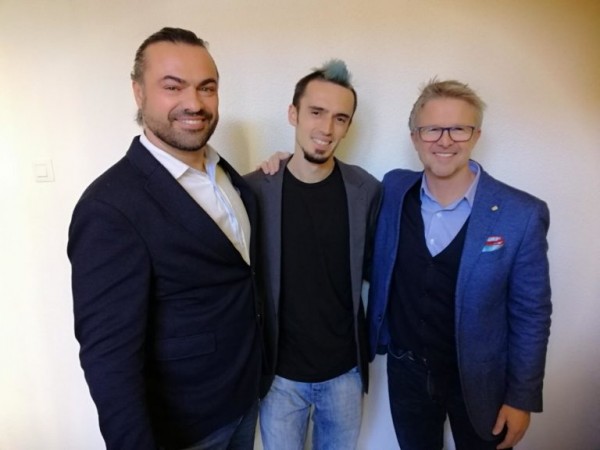 On Monday 13th January 2020, Gaimin.io CEO Martin Speight met Miguel Ferrero CEO of NoName Sports SL in Madrid, Spain, and signed a strategic agreement to work closely together to grow and expand the Gaimin.io user base in Europe.
NoName Sports SL (https://www.nonamesport.net) is an event organizer located in Spain and has worked with big brands like Amazon, eBay, Google, Huawei, Nissan, PWC, Decathlon, BMW and more. Miguel is a gaming industry expert, is considered one of the most influential figures in the Spanish gaming world and works closely with several Spanish virtual reality companies helping them integrate their tech into the gaming experience.
He added, "I am excited about the progress of Gaimin.io, more so now that I have seen how they have developed the Beta software and can't wait to help them get the word out and grow their user base. This agreement is long overdue. I want to start working out the details with Gaimin for the European markets and bridge the Asia market that Gaimin is strong in currently. I wish all the best to Martin and his team for their third IEO with Bicomony.com. Good job guys!"
Miguel and team helps organize and coordinate the Madrid Games Week (the largest Spanish speaking gaming convention in the world) and besides which Miguel also advises and manages several pro gamers. "I wanted Gaimin to meet with Don Miwell. I am glad their discussion went so well. I hope they can work together soon to promote the blockchain platform."
Don Miwell is a Spanish based gamer, Youtuber (https://www.youtube.com/user/TheMiwell) and Rainbow Six tournament caster. His work on Youtube has drawn in more than 85,000 subscribers and followers. He is excited about the potential of the Gaimin.io platform and enthusiastic to test it for himself.
Martin shared his views with Blockcast.cc's Editor, Jenny Zheng: "Miguel, who was one of the first people to talk with Gaimin.io founders in 2018 when they launched, has been an advisor and is also Chief Gaming Officer for the Hispanic markets. His support for our business is a big plus for the team. He has brought new blood into the platform since the early Alpha testing period."
When asked about his IEO efforts, Martin stated that he is very confident about the IEO with Biconomy.com. "I am extremely happy with Biconomy.com who are based in Canada. They have been very professional with their due diligence and have introduced many new sign-ups for our Beta software since the start of the IEO announcement. The end goal for us is about growing the user base of gamers who love our project. We are capitalizing on the IEOs with that in mind. We know our final token value will be controlled by market influences, and our token demand will be directly linked to how many and how quickly we grow our user base. We hope to reach an agreement with Don too, this means an additional 85,000 users! I'm keeping my fingers crossed."
The vision for Martin and his team is clear and will continue to grow as they look at more IEOs, more MOUs and beefing up the user base step by step in the international markets. For more information about Gaimin.io, go to www.gaimin.io.
Orginal Source: https://blockcast.cc/press-releases/gaimin-io-signs-strategic-agreement-with-noname-sports-sl-in-madrid-expanding-gamers-user-base/
Media Contact
Company Name: Blockcast.cc
Contact Person: Jenny Zheng
Email: Send Email
Phone: +65 98832707
Country: Singapore
Website: https://www.blockcast.cc