January 20, 2020 – Fast, fiery and intense, Mica colors of high grade can make artistic creations and everyday products such as jewelry, soaps, candles or nail art come to life. Muerk's high-quality Mica powder set is intended for unparalleled outcomes and is available for purchase from Amazon with complete peace of mind guarantee.
Muerk's Mica power set comprises 25 colors (250g/8.82oz) of vibrancy and quality that defies imagination. The Mica powder is ideal for use in making candles, bath bombs, cosmetic grade pigments, epoxy resins, eyeshadows and nail decorations. The pigments don't bleed or fade, and are heat resistant to 212°F (hence good for making soap). Pigment size is 10-60 microns without any fillers or impurities.
There are many reasons to choose Muerk's offering instead of the dull and poor standard material available elsewhere. The color section is ultimate, made from the most refined natural mineral, with an intense outcome. The metallic shimmer and pearlescent beats other products by miles. The quantity of powder is sufficient even for large art and craft projects.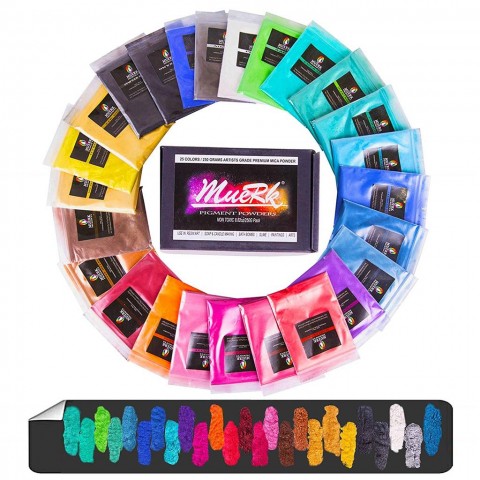 The vibrancy of colors in this set lends to multiple uses, including screen printing, decoupage, embossing, cosmetics, and artistic works. For the curious, here is a small list of some of the colors in Muerk's set: 24k Gold, Amethyst, Bronze, Caribbean, Chartreuse, Copper, Emerald, Glacier, Magenta, Onyx, Pewter, Sage, Scarlet, and Shiraz.
"Get the best offer for your money value with our Incredible color palette (big 10g/0.36oz portions) that are twice the size of other sampler kits on the market. Colors don't clot while mixing, and you can always find that perfect color within our selection," says a spokesperson for Muerk.
"These are beautiful and vibrant colors across the full visible spectrum, easy to blend and work with and perfect for creating colorful arts and crafts with epoxy resin. Great for coloring bath bombs," says a recent customer review.
Muerk's Mica powder set is 100% natural and eco-friendly. Free from cruelty and completely vegan, the product is FDA approved for cosmetic use and is safe for the skin as a soap ingredient or cosmetic.
Backed by our manufacturer 30-day money-back guarantee with a 1-year free replacement warranty. Feel free to contact us and we'll make sure you get a replacement or every penny back, no questions asked. It's 100% risk-free!
Buy from Amazon: https://www.amazon.com/Mica-Powder-Set-Cosmetic-Eyeshadow/dp/B082KHJMQW/
Media Contact
Company Name: Muerk LLC
Contact Person: Customer Support
Email: Send Email
Phone: (575) 751-7138
Country: Australia
Website: https://www.amazon.com/Mica-Powder-Set-Cosmetic-Eyeshadow/dp/B082KHJMQW/