Taiwan & UK – January 21, 2020 – There is cinnamon tea, cinnamon waffles, cinnamon breakfast cereals, and now… Cinnamon T-shirt! It's time to do away with conventional performance and sports T-shirts made with toxic chemicals. The Koup T-shirt is the world's first T-shirt made with patented Cinnamon yarn, produced in eco-friendly settings, and designed to outperform other materials for its natural anti-microbial properties.
Traditional performance T-shirts aren't good for the health of the wearer and the environment. That's why Koup T-shirts have been envisioned as a quick-drying, toxic-free and anti-odor alternative. Two years of intensive research and efforts led to the creation of a fabric made from Cinnamon. But why Cinnamon? This world-famous spice has been used since the Egyptian times for its anti-microbial properties.
"We created the Koup T-shirt using a 100% natural and long-lasting anti-microbial solution and from recyclable materials. To close the loop, the T-shirt can be easily recycled and remade. This is our vision of a circular clothing economy," says Brian Chuang, part of the Koup team behind the innovation.
Among its new properties, Koup T-shirts are 30% lighter and more stretchable than average cotton apparel, dry in just 17 minutes (under lab testing condition), and are made with agile-fit, which makes them fit perfectly for any body types. The customized yarn has a special cross-section that makes it good at absorbing moisture, and a breathable jacquard fabric keeps the skin cool. The anti-bacterial property of the Cinnamon T-shirt has been tested against the most common odor producing Staphylococcus aureus bacteria.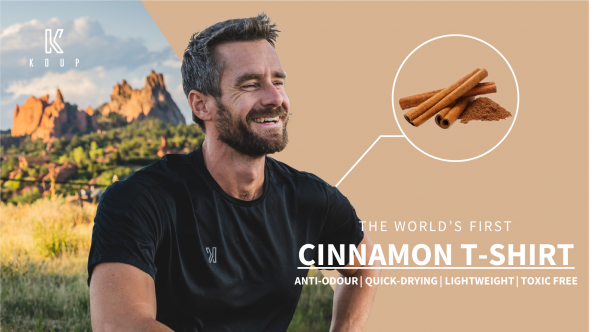 Koup is manufactured with a patented technology that combines cinnamon extracts with recycled polyester, which is then made into yarn, fabric and finally the stitched garment. Other T-shirts are covered with chemical and toxic materials, which are washed off easily. The anti-microbial property of Koup lasts a lifetime!
The Koup T-shirt campaign on Kickstarter has already received over $25K in pledges against its modest $2,600 target on Kickstarter. This shows the strength of the concept and the urgent need for an apparel product like Koup. The project will be especially loved by early adopters of new clothing technologies, users of performance and sports apparel, travelers and eco-conscious consumers around the world.
For more information, please visit: www.koup.club
Kickstarter campaign: http://kck.st/2Pvwfs0
Media Contact
Company Name: Koup
Contact Person: Brian Chuang
Email: Send Email
Phone: +886 975166050
Address:5F-9, No. 148, Section 4, Zhongxiao East Road, Da'an District, Taipei City, 106
City: Taipei City
Country: Taiwan
Website: https://www.koup.club/