From left to right – James Kim, Park Bong Kyu, Anndy Lian, Clive Aroskin, Jenny Zheng
Blockcast.cc organized a further roundtable meetup focused around the gaming industry in South Korea on 21 January 2020. This particular roundtable was held with the intention of further developing the gaming market and bridging the gap between gamers in Europe and gamers in Asia.
Blockcast.cc (www.blockcast.cc) led by Jenny Zheng, is a Singapore based blockchain media company with special interest in the gaming market. Blockcast.cc have successfully strategized blockchain gaming companies that are in sectors such as online casino, horse racing, esports and more. This time in Korea, they wanted to explore new partnerships and realize more gaming companies working together.
During the roundtable meeting, Gaimin.io and Nix Mobba successfully agreed to explore working together.
Nix Mobba (www.nixblock.com) is an international company that focuses on gaming related services like payment processes and digital assets. Their CEO James Kim, a serial entrepreneur, most recently invested into fashion as well. James and his team are very active in the esports arena with their own professional sports team and clothing brand and also organize regional esports events. Nix Mobba are registered in both South Korea and Singapore.
Gaimin.io (www.gaimin.io), a UK company based out of Manchester, is a blockchain powered gaming platform that allows passive monetization of gamer's GPUs when not being used for gaming. Gamers are rewarded with the Gaimin.io native GMRX crypto token which can be used as a payment method directly on the Gaimin.io platform's marketplace allowing gamers to enjoy an improved gaming experience. Clive Aroskin, COO of Gaimin.io had specially travelled over from meetings in Switzerland, to be present.
Nixpay is one of Nix Mobba's product lines that allow gamers to convert digital assets into Korea's currency, the won, and vice versa. Both James and Clive met each other for the first time and both of them liked the idea of connecting gamers from both markets together.
"Nix has access to the Korean and Chinese markets. Our technology is mature and has proven commercials. It will be good if we can capture the European market through Gaimin.io. We have connected our technology departments together this afternoon and this starts our intention to collaborate," James remarked.
"A big thank you for the roundtable table organized by Blockcast.cc. We had really good discussions on how to work together with Nix Mobba. We have also managed to meet many other friends in Korea who are gaming centric and fully understand the vision of how our platform will change the gaming market. My team were delighted to hear this news and are already working hard to create a formal MOU with James," Clive said. "Our third IEO with Biconomy gives us even more confidence and a wider reach of target audiences. This latest IEO work gave us the opportunity to return to Korea and meet partners like Nix to further our journey."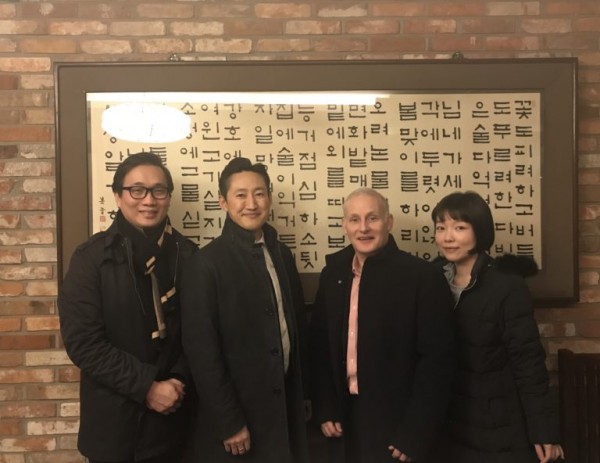 From left to right – Anndy Lian, Peter Lee, Clive Aroskin, Jenny Zheng
"I flew in specially for this roundtable event and it was worth the effort. I have met numerous gamers over this series organized by Blockcast.cc and many of them want to see what blockchain can do for the gaming industry. I also managed to get a glimpse of the Gaimin.io mining plugin on Clive's laptop and it looks great! Now, we are looking forward to the public download for the mining plugin," Anndy Lian, Member of Gyeongsangbuk-do Blockchain Special Committee, Government of the Republic of Korea commented.
The roundtable series is part of the Blockcast.cc roadmap to reach out to blockchain companies. Blockcast.cc also aims to interview 150 blockchain professionals and organize their flagship event "Redecentralise" in 2020.
For more information about Blockcast.cc, visit www.blockcast.cc/interviews
Media Contact
Company Name: Blockcast.cc
Contact Person: Jenny Zheng
Email: Send Email
Phone: +65 98832707
Country: Singapore
Website: https://www.blockcast.cc