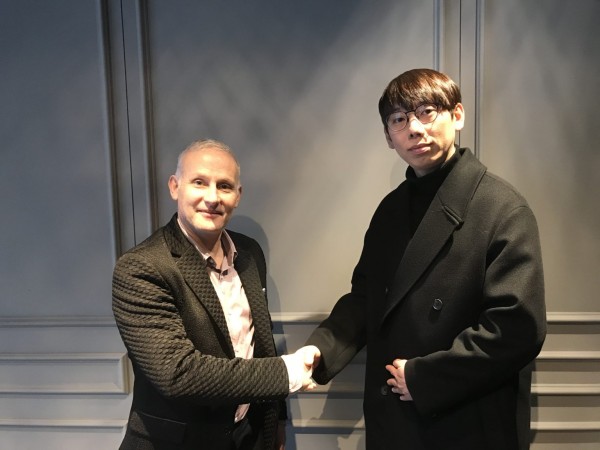 David Jung, CMO of Biconomy congratulates Clive Aroskin, COO of Gaimin.io on the successful IEO on their playform and looks forward working together soon.
Biconomy's first IEO with Gaimin.io GMRX tokens sells out and has generated interest amongst gamers from all over the world. The full allocation of 5,000,000 GMRX tokens was taken up allowing for the continued development of the Gaimin.io platform toward passive monetization of gamers' GPUs.
The sale of the tokens was completed in roughly 24 hours. Biconomy, headquartered in Canada and with offices in Korea, Japan, Russia and the UK. Biconomy is committed to heralding a new era of the digital economy by serving outstanding blockchain projects. Gaimin.io being the first IEO held by the exchange, the aim was for the best results possible, and everyone worked around the clock to make sure that the whole IEO process was seamless especially being Biconomy's first experience. Biconomy not only managed the technology portion but also the overseas communities in order to draw in and capture more users and buyers.
David Jung, Chief Marketing Officer of Biconomy.com commented: "The first IEO with Gaimin.io has been a great success. This has set high standards for our future IEOs. Gaimin have a great team who helped us to facilitate the whole process from getting their communities to participate, pitching to international media, to managing their promotional roadshows in Canada, Spain and Switzerland. They did not just depend on what we could provide; they simply did more to help themselves in this bearish market. This is the right spirit. I was told that many projects just sit there to wait for the exchange to do the job, with this project (Gaimin.io) did the opposite. We are all impressed. Finally, I want to thank all the supporters from our communities for supporting us and thank you Gaimin.io for bringing us more users."
Gaimin.io who had completed 2 IEOs before being selected by Biconomy to do their third were also happy with the results. "Honestly, I did not expect to get a sell out for this IEO. I thought we had used up our resources and the cryptocurrency market is still not in the most favourable state. Plus we took close to 24 hours to complete the sale. I really appreciate my team for all their efforts to market and sell the tokens, special thanks to Shaun Martelly and Sander de Bruijn who worked tirelessly with the investors. Thanks to our CEO (Martin Speight) for working behind the scenes to make sure the timelines were met. Thanks to Buki and Calvin for getting our mining plugin ready for download letting the gamers earn from our blockchain gaming platform." Andrew Faridani, CMO of Gaimin.io said to Jenny Zheng, Editor of Blockcast.cc.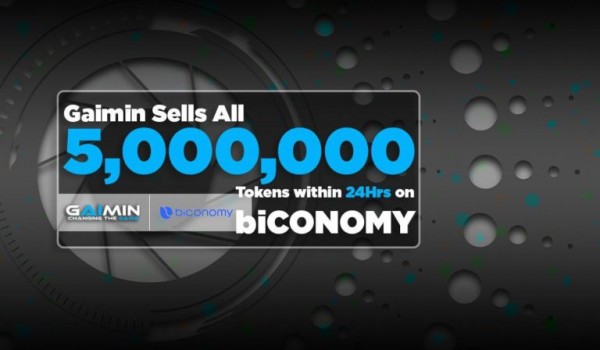 The IEO started on 19 January 2020, 12pm and had ended on 20 January 2020, 11am (Singapore Time). The completion of the IEO starts a good year for both companies. Biconomy will continue to open up new markets while Gaimin.io will carry on with their roadmap where they will obtain more gamers in Asia through their mining plugin. According to the spokespersons from both companies, there are also talks on a possible IEO Round 2 after the good results attained.
Information about the IEO can be found at www.biconomy.com and www.gaimin.io
About Biconomy
Biconomy is a new cutting-edge cryptocurrency exchange with global view. Headquarter in Canada and have offices in Korea, Japan, Russia and UK. Biconomy is committed to opening a new era of the digital economy by serving outstanding blockchain projects with customized one-stop additional services around listing, trading, liquidity management and more.
About Gaimin
The Gaimin.io project is a blockchain powered gaming platform which connects the world's largest supply of distributed GPU processing power, which belongs to the 1.3 billion gaming PCs in the global gaming community, with the rapidly growing, worldwide demand for massive processing power, therefore allowing passive monetization of the gamer's GPU when not being used for gaming.
Media Contact
Company Name: Blockcast.cc
Contact Person: Jenny Zheng
Email: Send Email
Phone: +65 98832707
Country: Singapore
Website: https://www.blockcast.cc