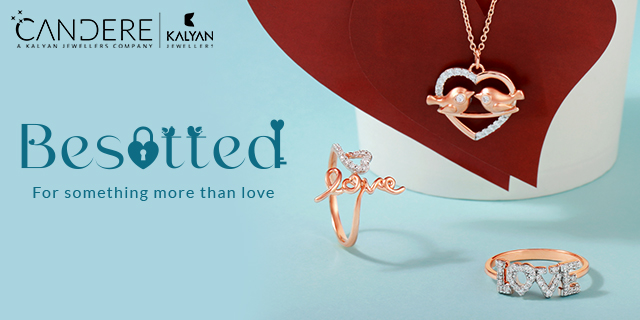 "That moment when you place a Diamond Ring in the fingers of your intended Valentine can be more memorable and mesmerizing with a wide range of love-themed designs with Candere's valentine collection – Besotted. A new collection designed with rings, earrings, pendants, bracelets and kadas. Everyone can make a perfect statement this Valentine."
Diamond rings are just like our memories. They are a beautiful and elemental form of time and promise. A memory that we can gift your loved ones, uniting your love and devotion with a beautiful diamond ring. There are many reasons why diamond rings as a gift are a perfect way to say 'I love you.'
Diamond has its place in history and is here to stay, a word derived from the Greek word Adamas meaning unconquerable, a name given to Diamonds probably for its sheer brilliance and strength.
Worn as adornments and traded as early as during the 4th century BC from India through the silk route to China, taking their place in Rings and other forms of jewellery through time.
Diamond Rings are just like our memories. They are a beautiful and elemental form of time and promise. A memory that we can gift your loved ones, uniting your love and devotion with a beautiful diamond ring. There are many reasons why diamond rings as a gift are a perfect way to say 'I love you.'
Diamonds & Valentine have partnered throughout their shared time and moments, representing a day dedicated to love and passion. But love is not a feeling that gets constrained into one day. It's an everlasting and growing part of us that keeps us connected with people we love and care about in our life.
And throughout time and history, diamonds have been synonymous with gestures and gifts. We all may have come across the phrase "Love transcends time and everything it envelopes", So why should love be left to stand alone?
Diamonds serve as a beautiful & perfect carrier of these memories. It is more than just knowledge of what has been and contains feelings of that moment.
Memories connect humans, even when they are apart.
Diamond Jewellery and gifting them is precious no matter what the occasion. But we are creatures of emotions and memories, and we tend to attach aspects to events. There are countless moments in history where gifts have been vital when love is involved, if it's professing your love, the birth of a child, or bringing a smile to someone you truly love.
Diamond rings have spread across all cultures, settling as the perfect jewellery for weddings & anniversaries. It took the role and became the significant jewellery for couples. It's essential to let your loved ones know that they're amazing and loved in every single thing they do and by being a part of your life. And a valentine gift is a perfect way to show your love and tell them they are amazing.
Managing such moments can be especially difficult in these changing times. Searching for a diamond ring can be difficult, considering so many things. Hence getting a valentine day gift online is much easier and provides you access to more designs at the tip of your fingers.
Candere being a jeweltech leader provides you with all the tools and support at your fingertips to help you through your journey in finding the perfect Diamond ring for the love of your life. You can avail options like the Ring Sizer, Education Guides, Double Gold Rate Protection (DGRP) to help start your journey.
Envision a perfect valentine with their latest Besotted collection, where they bring you the latest designs to celebrate love, birds, friends, family, affection and care for everyone. Let's get besotted this Valentine.
Check out their best sellers in Diamond rings like the Claudia Diamond Ring, Pouring Hearts Diamond Ring and many more in their new collection for Valentine.
That moment when you place a Diamond Ring in the fingers of your intended Valentine can be more memorable and mesmerizing with a wide range of love-themed designs with Candere's valentine collection – Besotted. A new collection designed with rings, earrings, pendants, bracelets and kadas. Everyone can make a perfect statement this Valentine.
Media Contact
Company Name: Enovate Lifestyle Pvt Ltd
Contact Person: Akshay Matkar
Email: Send Email
Phone: 9768250199
Address:Candere By Kalyan Jewellers, 501-502, Om Shakti Samrat Shakti Niwas, Ramchandra Lane Extn, Nr Gr Bombay Bank Co-op Bank, Kanchpada, Malad West
City: Mumbai
State: Maharashtra 400064
Country: India
Website: https://www.candere.com