Result for 'Plan B' – Space Centre design competition out now.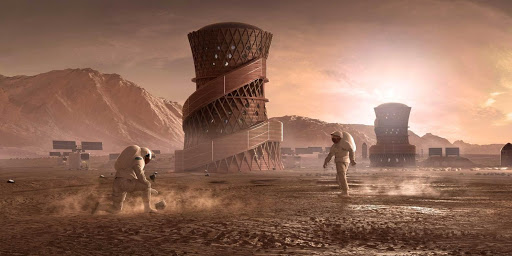 The theme of space has been explored much, over the years. Movies, series, storybooks, and other media have extensively covered imagining such spaces, and all of them have one image in their heads… the heavily metal fabricated, tech-savvy, automated geeks, running the operations. This imagery holds true since they are derived from the current space technology and materials that have been developed. On other planets, the absence of atmosphere binds us inside a box, with restrictions on building materials, technology, and spatial design. That's why our future life in space is imagined in the way it is.
Futurism is a very strong theme in these images, and we are still discovering the many elements that are encompassed in this vast universe. But with the way humans are faring right now, this seemingly imaginary situation might as well become a closer reality. Are we ready to even comprehend the reality of our present situation, let alone start planning for interplanetary habitation? Owing to our insensitive lifestyle, the planet we currently inhabit is on the brink of collapsing. As we are waking up to this realization, the fight for survival has become more real now. Even with the work being done towards sustainability, the pace that is needed to prevent mass annihilation is not being achieved. With this fear, a backup plan is contemplated, to ensure the survival of our species and life, even if Earth dies.
But if we did have to relocate, the questions that come to mind are endless. What aspects of life would we rethink? Can we prepare for such an experience within time? Even if we are able to successfully colonize another planet, how will we ensure the survival of our new home after having destroyed Earth? Will history repeat itself? The amount of effort and resources that will go towards inhabiting a new planet are immense. But even a fraction of that, if put into rejuvenating what we have lost on Earth, could drastically improve our chances of survival on our home planet.
What role could designers play at this crucial standpoint in time, to reinforce this awakening?
We need to make people aware of the possibility of bringing change to the world. When they imagine their life on Earth, a new vision of coexistence and harmony with nature must be generated in their minds.
The competition was to design a space experience center that emulates a new planet to be colonized from scratch and tries to educate its visitors on how our daily life choices as a species, define the future. The design of this experiential center had to follow the theme of life on an alien planet. Even though this center had to be designed to show its visitors what life on a new planet would look like, the aim of the design was to highlight the changes that would occur in our lifestyle, and what we would be missing from our life on Earth. The center should promote the green movement of sustainability.
The jury for the competition consisted of esteemed designers, professionals, and academicians from around the world. The Lead Jurors for the competitions were as follows:
Anastasia Prosina, CEO, Stellar Amenities, United States
Phnam Bagley, Founding Partner & Creative Director, Nonfiction, United States
Some of the Best of competition projects are as follows:
Winning Project: ARES
By: Kiarash Kiany, Shiva Talebi & Sogol Noopoosh
Description: In the future not far from now, human beings will leave the safety of earth and face the rough situations waiting for them in Space. The question is that how are we going to be able to leave earth and explore space and other planets? We have used the meaning of museum to tackle this Concern.
Jury Comments: An interesting approach, with some questions around practicality in an outdoor setting.
People's Choice: WEB OF LIFE
By: Abdelhamead Rasslan, Menna Eid & Aly Hajjaj
Description: Space made us realize how fragile we are, and how we wasted our resources over time making our survival on Earth is a matter of time, and designing a space that would serve its purpose efficiently we had to analyze the design objectives.
Jury Comments: Interesting approach, but likely very difficult to manufacture with practicality issues as above.
Editor's Choice: POD-STELLAR Space Museum
By: Rania Labib, David Cabanas & ALAN JAUREGUI
Description: Pod-Stellar Space Museum is a family-oriented experience center that mimics what it would be like to live and work on another planet away from our very own solar system. The museum would follow three simple but effective strategies to carry out self-sustainability on another plant which would be reuse, reduce, and recycle.
Editor's Choice: ASTRO-POP Space Museum
By: John Ombrog
Description: An Interactive Space Museum with a User-Driven Exhibition. The concept of the museum is the journey of an astronaut into the unknown, The museum's design follows this storyline religiously and capitalizes on the technologies that come with the concept. As you go further into the design, you will find the next steps in the story.
Checkout the other top entries here.
UNI is a global platform for architecture designers, AEC firms and homeowners for launching call-for-ideas/architecture competitions globally. UNI brings together this world's fastest growing community of architects and designers through consciously crafted architecture competitions by the finest academicians and architecture professionals globally. It brings academic and practical spheres of architecture through a unique knowledge sharing network.
Media Contact
Company Name: UNI
Contact Person: Fenil Pinto
Email: Send Email
Phone: +1 (972) 318-9454
Country: United States
Website: https://uni.xyz