Cryptocurrency is huge. The opportunities and possibilities in this era and the next are all linked with Cryptocurrency. The emerging arena of blockchain and Cryptocurrency is dominated by many giant powerhouses that bring to the table, a great deal of knowledge, skills, and opportunities for all those who want to experience this adventurous world of crypto.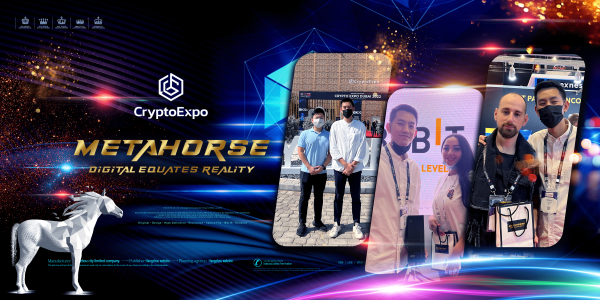 This year, amongst the crypto powerhouses, co-founders of Metahorse were invited to attend the Crypto expo 2022. To bring crypto enthusiasts together in one place, HQMENA organized the Crypto Expo 2022 in Dubai on the 16th and 17th of March 2022. Being the largest crypto exhibition and conference in the industry, this event reportedly gathered over 100 big blockchain companies and over 10,000 spectators from around the globe. The two-day event highlighted the importance of Cryptocurrency and blockchain-based technologies in the future of E-commerce, trade, and business landscapes. In this mega event, many futuristic topics such as, how to include Crypto in your portfolio, future payment systems, and Metaverse were discussed.
Co-founders of Metahorse were invited to the Crypto Expo 2022, the largest crypto gathering organized by HQMENA, to talk to the crypto leaders from across the globe about the potential that blockchain and Cryptocurrency have to offer. The co-founders of Metaverse interacted with the top powerhouses of the crypto and blockchain industry and shared their insights on topics such as Metaverse of health and wellness, Cryptocurrency, the future of payment landscape, and how NFTs will change the landscape of future investment. In addition to sharing valuable insight, the co-founders of Metahorse also identified some interesting collaborations and investment opportunities from amongst 100 different companies that attended the event. While little has been revealed so far, co-founders of Metahorse are optimistic about the array of opportunities and mutually beneficial collaborations that this event is bound to bring to them and many other players in the industry.
Being invited to such an event signifies that Metahorse is recognized to be a key player in blockchain-based futuristic technologies. The event collaborations will result in greater value for the project. Such events give experts a chance to share knowledge and expertise they gather over time towards the development and value addition in the industry best practices, and future technological breakthroughs in the blockchain and Cryptocurrency industry. Looking forward to more such events.
Media Contact
Company Name: METAHORSE
Contact Person: John Chin
Email: Send Email
City: Dubai
Country: United Arab Emirates
Website: https://themetahorse.io/