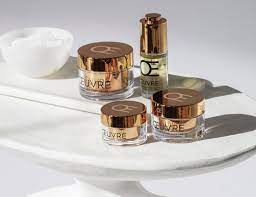 Sentient Brands' (OTC Pink: SNBH) stock is attractive at current levels, especially with its Oeuvre CBD and gemstone-infused luxury skincare products continuing to penetrate a more than $115 billion luxury skincare market opportunity. In fact, at current prices, $SNBH stock looks more than attractive; they present a compelling value proposition. And with Sentient Brands in its best operating position in history to create and enhance shareholder value, being timely to the trade may be a wise consideration.
But keep in mind, the value presented is purely from a products perspective. The other part of the investment consideration is the inherent potential from a beauty products industry in consolidation mode, with behemoths like L'Oréal ($OR.PA), Estée Lauder ($EL), and Procter & Gamble ($PG) enhancing their own portfolios by acquiring assets that target underserved niche opportunities. Like big pharma players, they may be realizing that it's far less costly to acquire than to develop. Alone or with help, though, Sentient Brands is positioned to do exceptionally well in 2022. They have, after all, created and marketed an exciting new CBD and gem-infused product lineup taking advantage of a $3.4 billion niche market expected to more than double in size in the next five years.
And their doing so appears to have caught the attention of investors, who have taken the stock on a wild ride on incredibly high comparative volume.
Video Link: https://www.youtube.com/embed/qU9zij5nRdU
Oeuvre Skincare Takes Skincare To A New Level
Indeed, something's up at Sentient Brands. And with high volume generally preceding a significant price move, the apparent consideration is that the bulls are taking the reins. That makes sense, especially with Sentient Brands assembling an impressive management team that knows how to develop products and get them to the markets. And they've done it again. This time was launching its Oeuvre luxury skincare product targeting a massive consumer audience that embraces what SNBH is selling. And keep in mind, the team behind the marketing is part of the same that helped to build world-class brands such as Hugo Boss, Victoria's Secret, Versace, and Bath & Body Works. That matters.
And with industry brand development veteran George Furlan at the helm, expectations are for history to repeat. Said another way, Oeuvre could be a blockbuster asset for the company. Indeed, experience combined with expertise can be the catalyst, with Furlan previously involved in providing creative, strategic, and operational support to fashion and lifestyle companies, including Fleur du Mal and Raleigh Denim Post-Imperial, and guided a successful global launch for Tommy Hilfiger. He also contributed to relaunching the Hugo Boss luxury division and directed its sales for the Americas.
As if that wasn't enough to suggest that SNBH is in excellent hands, he was also a former director of sales and merchandising for Versace, leading sales, merchandising, and marketing efforts for their US and Canadian markets. Now focused entirely on creating value from his Sentient assets, namely Oeuvre, it's obvious why SNBH stock is in play.
Oeuvre In Right Markets At The Right Time
And expect that interest to continue, with SNBH having the right products at the right time to penetrate a multi-billion dollar global prestige beauty and personal care market opportunity. Better still, that interest could grow as SNBH accelerates its pace to meet surging demand in the CBD-infused beauty products space.
But, keep in mind, Oeuvre isn't promoting more of the same. That's great news. Instead, it utilizes the proven effectiveness of CBD properties and includes a micro-gem component that could change the direction of new product development in the sector. As it does, expect SNBH to keep its first-to-market position, which in the retail world can be worth billions. And for investors, a potential windfall.
That could be likely, especially with Oeuvre's innovative, socially conscious CBD and gemstone-infused beauty products different from anything else on the market. Of course, in an industry consolidating, it's also a reason why things could get interesting from an investor's perspective. Why?
Because if trends continue, SNBH's Oeuvre could be in the crosshairs of industry leaders like L'Oréal, Estée Lauder, and Procter & Gamble as they take a page from the big pharma playbook and acquire innovative products that get them a first-movers position in a particular market segment. That strategy is less expensive, comes with less market risk, and provides a running start to market by capitalizing on an established market presence. How can that scenario benefit Sentient Brands? Well, in a word, significantly. Remember, its Oeuvre lineup is developing a new product category, generate s revenues, has impressive market position, and checks the box of being socially conscious with manufacturing processes that are Eco-friendly from top to bottom.
Thus, whether SNBH benefits from licensing, partnerships, acquisitions, or just going alone, one thing to consider is that 52-week highs are back in the sights. And while volatility may be generating a current zig-zag pattern, being better positioned than ever does put that ambitious 525% potential target into play. Moreover, reclaiming that roughly one dollar level may not take as long as many think.
A More Than $500 Million Market Opportunity
That's because women spend roughly $313 per month on beauty products in the US, contributing to a global beauty market valued at $511 billion in 2021. Still, while the market is enormous today, it's expected to eclipse a more than $716.6 billion opportunity in the next three years. And growing at a 25% CAGR, the sector could offer a trillion-dollar market potential by the end of the decade.
As remarkable as that sounds, reports indicate that's the trend. Moreover, those selling into the proper channels could have a sales leg up on the competition. And that could be a big part of SNBH's near-term success. Not only that, taking sales from any of the majors could ignite the interest of potential suitors, with a significant contributing factor being that Oeuvre is the first known luxury skincare product infusing CBD and gemstone properties to deliver industry-best skincare. At the same time, it's exploiting a massive niche market opportunity, which, of course, is a factor driving the SNBH investment proposition.
Here's better news, Sentient Brands isn't dependent on making a deal to generate millions in new revenues. Leveraging the strength of its management team, maximizing independent revenue-generating opportunities is already in play. That's important. Higher product revenues lead to higher multiples which lead to higher valuations. Thus, marketing a best-in-class and first-to-market product does have inherent advantages enabling management to be patient with its strategic options.
Still, either option of extracting value from Oeuvre would benefit the early investor. And with recent trading patterns suggesting something is happening behind the scenes, investment consideration sooner than later may be warranted.
Oeuvre Penetrates A Billion-Dollar Market
Remember, Oeuvre is actively penetrating a significant billion-dollar market independent from the stocks trading. Thus, market prices don't always tell an accurate story. Most important to modeling for an appropriate valuation is to consider that SNBH has an innovative, first-in-class product in Oeuvre, an industry-best management team powering an effective marketing campaign, and a running start to develop a new market segment by combining CBD and gemstone additives.
Moreover, investors must factor in that with an expected CAGR of 25% in the CBD-infused sector in the next five years, SNBH's revenue-generating opportunities get substantially stronger. Not only that, for SNBH, the stakes can be even higher, with expectations for the e-commerce market to deliver a CAGR of 27.4% during the forecast period. With SNBH exploiting that sales channel, revenue growth could be more robust and faster.
Notably, not all companies understand the intricacies of selling outside brick and mortar. And just because the CBD-infused skincare market is in a boom cycle doesn't mean every company will score millions in revenues. In fact, most won't even get any traction. But bad news for them is potentially excellent news for SNBH. Its team does know how to take advantage of digital channels and is also supported by an infrastructure that provides technological sophistication to support growth. That combination of factors are ingredients to help SNBH grow efficiently, maximize its high-margin revenues, and adapt to fast-changing market demands.
Those things are happening now. And as a result, SNBH is seizing multiple revenue-generating market opportunities with best-in-class products capitalizing on opportunities in the exploding CBD-infused skincare products market. Better still, margins are higher in the luxury skincare market, which contributes to higher revenue growth that drops faster to the bottom line.
Marketing To The Masses
It's not a complicated process. As long as SNBH continues to do what they do best, which is to develop brands that resonate with an audience of engaged consumers and leverage that engagement with cutting-edge, data-driven marketing to build branding, reputation, and market penetration, results should come better than expected. That is, by the way, the intent of its most aggressive marketing campaign in history.
Sentient Brands started 2022 with an ambitious marketing program, initiating relationships with popular social media influencers on Instagram, Facebook ($FB), and Pinterest. More than using popular luxury lifestyle influencers, though, SNBH created a message that reaches its demographically-defined consumers through other popular platforms that highlight the brand's use of high-end, sustainable products. It's a message that makes a statement, and it's a powerful one.
Oeuvre's skincare products are free of toxins, irritants, and other objectionable additives like sulfates and petroleum. Additionally, their production processes are vegan and cruelty-free. As a matter of fact, it's Sentient Brands' mission to rise above and beyond these standards by ethically and responsibly sourcing all of its skincare components to satisfy the demand for sustainable and ethical products. It's a message the markets want to hear, and notably, one that SNBH is telling.
More importantly, the SNBH products message is designed with ROI in mind, meaning that dollars spent on advertising should have an appreciable return on sales. That happens through robust analysis of backend analytics to keep campaigns targeted. In other words, every dollar spent by SNBH is sent on a mission to meet a consumer and then transform that introduction into a sale or enhance brand loyalty.
The hands-on analysis also permits SNBH to adjust and optimize its strategy at a moment's notice, keeping its target market in the conversation. Although it reads like basic marketing, when the pieces are correctly assembled, the results culminate in utilizing people and technology to their full effectiveness. In turn, reaching goals happen more frequently and with higher returns.
What's In-Play In 2022
So, what's in play for SNBH and its shareholder near term? Following guidance- the best year in its history. And with Sentient having the team, product, marketing, and capital to expedite that mission, ambition can turn into reality sooner than later.
By all measures, SNBH is in its best operating position in history. They have excellent management, compelling products, a targeted niche, and the capital to move the revenue-generating ball forward. Over the past few weeks, the trading pattern indicates that investors are taking notice. Moreover, intraday moves aside, they are starting to close the gap.
And their timing may be ideal. Indeed, when intrinsics catch up to share price, valuations could move exponentially higher. Add in its move deeper into North and South America, current valuations appear even more disconnected from an appropriate level. Still, few argue that markets are precise in pricing stocks, so while SNBH shares may be trading at the penny-market levels now, that doesn't mean that's where it belongs. As always, financials and fundamentals will lead to re-calculating a market cap. And if Sentient Brands stays on course, its recalculation could be significantly higher.
The most excellent news is that the groundwork is laid for that to happen. Thus, while 2021 was a transformative year, 2022 can be its breakout. And with milestones in play that can become catalysts, and with a product lineup that could change a market segment landscape, trade consideration ahead of news and shareholder updates may be wise. For sure, if management can repeat past success, Sentient Brands could be a beautiful addition to one's portfolio.
Disclaimers: Shore Thing Media, LLC. (STM, LLC.) is responsible for the production and distribution of this content. STM, Llc. is not operated by a licensed broker, a dealer, or a registered investment adviser. It should be expressly understood that under no circumstances does any information published herein represent a recommendation to buy or sell a security. Our reports/releases are a commercial advertisement and are for general information purposes ONLY. We are engaged in the business of marketing and advertising companies for monetary compensation. Never invest in any stock featured on our site or emails unless you can afford to lose your entire investment. The information made available by STM, Llc. is not intended to be, nor does it constitute, investment advice or recommendations. The contributors may buy and sell securities before and after any particular article, report and publication. In no event shall STM, Llc. be liable to any member, guest or third party for any damages of any kind arising out of the use of any content or other material published or made available by STM, Llc., including, without limitation, any investment losses, lost profits, lost opportunity, special, incidental, indirect, consequential or punitive damages. Past performance is a poor indicator of future performance. The information in this video, article, and in its related newsletters, is not intended to be, nor does it constitute, investment advice or recommendations. STM, Llc. strongly urges you conduct a complete and independent investigation of the respective companies and consideration of all pertinent risks. Readers are advised to review SEC periodic reports: Forms 10-Q, 10K, Form 8-K, insider reports, Forms 3, 4, 5 Schedule 13D. For some content, STM, Llc., its authors, contributors, or its agents, may be compensated for preparing research, video graphics, and editorial content. STM, LLC. has been compensated up to ten-thousand-dollars via wire transfer to produce and syndicate content for Sentient Brands, Inc. for a period lasting one month. As part of that content, readers, subscribers, and website viewers, are expected to read the full disclaimers and financial disclosures statement that can be found on our website by visiting primetimeprofiles.com/disclaimer.
The Private Securities Litigation Reform Act of 1995 provides investors a safe harbor in regard to forward-looking statements. Any statements that express or involve discussions with respect to predictions, expectations, beliefs, plans, projections, objectives, goals, assumptions or future events or performance are not statements of historical fact may be forward looking statements. Forward looking statements are based on expectations, estimates, and projections at the time the statements are made that involve a number of risks and uncertainties which could cause actual results or events to differ materially from those presently anticipated. Forward looking statements in this action may be identified through use of words such as projects, foresee, expects, will, anticipates, estimates, believes, understands, or that by statements indicating certain actions & quote; may, could, or might occur. Understand there is no guarantee past performance will be indicative of future results. Investing in micro-cap and growth securities is highly speculative and carries an extremely high degree of risk. It is possible that an investors investment may be lost or impaired due to the speculative nature of the companies profiled.
Media Contact
Company Name: STM, LLC.
Contact Person: Michael Thomas
Email: Send Email
Phone: 973-820-3748
Country: United States
Website: https://www.sentientbrands.com/