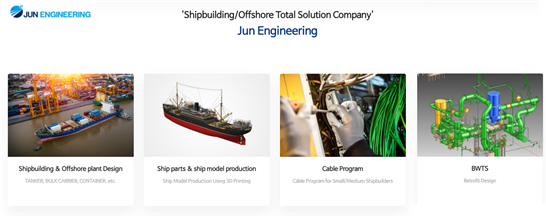 There is a company that is establishing itself as a leading company for shipbuilding and offshore plants via ship design.
Jun Engineering Co.,Ltd, located in Ulsan and Jinju providing Shipbuilding/Offshore plant design service, ship modeling through 3D printer, and development&sales the first cable measuring system that interlockable with 2D CAD for middle-and-small-sized shipyard.
Although it has only a few history for it was founded in 2017, but constantly spreaded its scale, contributing to the creation of local employment. As a result, despite being an early company with less than three years of start-up, Jun Engineering won the Minister of SMEs and Startups Award.
Jeon hyeoung-jin, CEO of Jun Engineering started ship design in Samsung heavy industriess Co.,Ltd, and worked in SPP shipyard as a part leader of electronic design for about 15 years.
However, He had considered to change job due to severe recession in the shipbuilding industry and the Lehman Brothers crisis, but he founded a new company with hope and confidence in the domestic shipbuilding industry.
Jun Engineering mainly providing design drawings to middle-and-small-sized shipyard, and shipyard make a ship through processing, assembly, mounting, and installation of fittings at production site after receiving drawing.
In addition to ship design, Jun Engineering is attracting attention as it is also manufacturing 3D printer ship models and prototypes.
CEO Jeon said "Before actual shipbuilding, use ship model to test a new ship shape. especialiy, government ship has a condition that ship model must be provided when delivery of the ship in specification sheet, so ship model must be made."
Jun Engineering said it currently operates its shopping mall and is preparing to enter the 3D printing model market for ordinary people such as general merchant ship models and plastic model enthusiasts by utilizing cheap and simple designs in the future.
CEO Jeon said "Because Face-to-face meeting is not available due to bad domestic economy, in some cases, process disruptions may occur due to delayed meetings." and "Currently, We constantly establish and respond to various non-face-to-face situations."
In fact, Jun engineering participate in overseas conference on online, and continuously holding consultation with Middle East, European, and Southeast Asian companies.
Meanwhile, CEO Jeon said "I want to make this company a company that employees want to work in, a company that want to work for a long time, and a company that can grow sustainably." and "In addition to realize social value, we'll discover and expand various business area to enhance competitiveness of this company."
Media Contact
Company Name: JUN Engineering Co.,ltd
Contact Person: Jun Hyeong-jin
Email: Send Email
Phone: +82 55-761-0634
Country: South Korea
Website: http://jun-eng.kr/