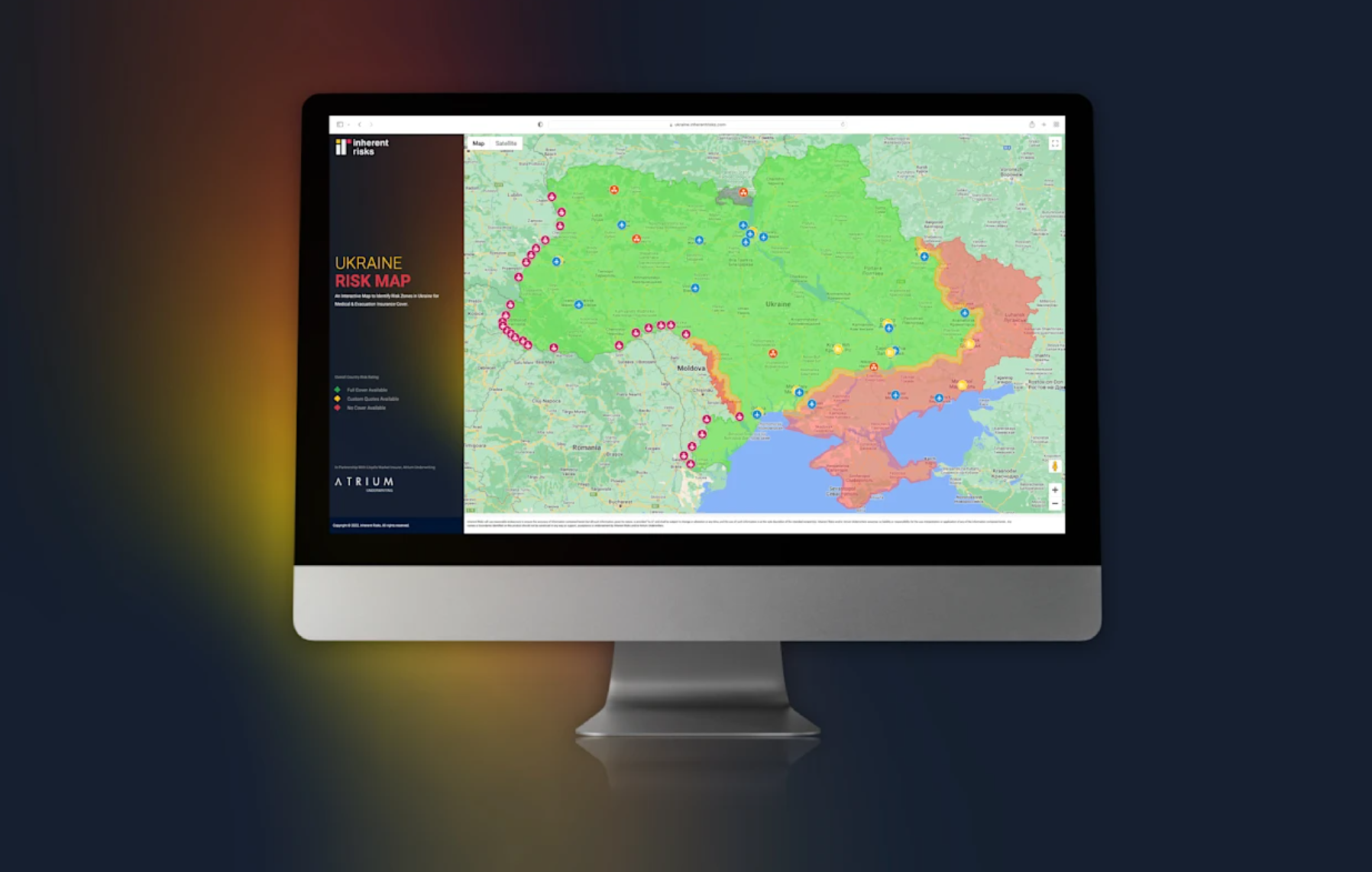 Risk advisory and crisis response firm, Inherent Risks, in collaboration with Lloyd's Market Insurer, Atrium Underwriting, has developed an interactive, easy-to-use, Risk Map for users to determine where emergency medical, evacuation, and personal accident insurance cover is available in Ukraine.
At its most simplistic, the live Risk Map, updated daily by Inherent Risks – Intelligence Analysts, has divided Ukraine into risk zones, primarily Red, Orange, and Green.
This allows those organisations and individuals assessing risks, routes, and areas of operations in the country to make better-informed decisions when it comes to travel risk management and duty of care and to determine what rate their insurance will cost per day/week/month.
Its format is simple. The Green Zone has been categorised as Low to Medium Risk, giving one low insurance rate for the majority of Ukraine except for within 12kms of Russian occupied territory (Red Zone), also known as the frontline.
The Orange Zone represents the 12 kilometres between the Red Zone and the Green Zone, and custom quotes are available for an additional premium which justifies the additional risks within that region.
Hotspot Cover
Hotspot Cover, underwritten by Atrium and Convex, has been covering journalists, humanitarians, and security personnel in Ukraine since the conflict with Russia began through their War Risk policies which covers emergency medical, evacuation, personal accident & dismemberment, and kidnap & ransom.
"From a conduct risk perspective, and an ethical one, providing an affordable insurance solution for organisations entering Ukraine, with a real evacuation capability, has been of utmost importance to us since the very beginning." Said Will Edlin, Head of Insurance
Inherent Risks was one of the first firms to deploy their own staff and capabilities to Ukraine, within just 48 hours of the start of the conflict, and where they have had a continued presence ever since, which includes an established 24/7 operations centre, staffed by multilingual medical assistance and crisis response specialists.
Hotspot, Atrium, and Inherent Risks have worked together diligently to assess and monitor the risks, understand insureds requirements, and establish realistic assistance and response plans which has enabled Atrium Underwriters to significantly reduce insurance rates in the country where there are reduced risks, as identified within the coloured zones on the risk map.
Medical Assistance & Emergency Evacuation
After conducting an industry benchmarking assessment, and stress-testing other assistance providers earlier this year, Hotspot Cover, and in turn, Atrium Underwriting, appointed Inherent Risks as their medical assistance and emergency response provider for one simple reason. They don't overpromise and then under-deliver (and they don't make money at the claims stage).
Edlin added, "Time and again, they have proven their capabilities for our clients, including recently in Afghanistan, Iraq, Gabon, Mozambique, and Tanzania. The Ukraine has been no exception. An insurer is only as good as the assistance and claims provider they rely on to advise, assist and respond to their travellers."
Risk Register
At no additional cost to premium, Inherent Risks maintains a Risk Register for all personnel on-risk in-country, including travel tracking and check-ins when they change location, and provide all insureds with an intelligence brief and pre-travel advisory before they enter Ukraine.
Based on the Risk Register, depending on the clusters of people on risk, Inherent Risks move their assets into strategic locations that enable them to respond in the event of an incident. Once an SOS is received, their team coordinates the rescue and evacuation.
"Our primary responsibility is to proactively mitigate risks, and in the event, there is an incident, it's to get the injured to safety, off the 'X', and to triage and stabilise, before transporting to the nearest suitable hospital, and/or evacuating out of the country." Said Dan Kaine, Head of Risk & Crisis Advisory
To mitigate risks further, Inherent Risks also provides body armour and kevlar helmet rental, armoured vehicle rental, satellite communications support, risk assessments, and route planning to organisations entering the country.
Within their extensive network, they also have access to a fleet of helicopters that can land within 2 km of the Ukrainian border, in bordering countries, to provide rapid evacuation to hospitals or airports if required.
Policies in Ukraine underwritten by Atrium are not 'self-rescue' policies.
Special Risks Add-Ons
Away from the 'standard' War Risks in Ukraine, Hotspot Cover can also further bespoke your policy to included Nuclear, Chemical, and Biological cover – at an additional premium, on a bespoke basis, as well as insuring for Kidnap and Ransom, Disappearance and Extortion.
Insurance in the Green Zone can be purchased online as easy as a standard travel insurance policy, at www.HotspotCover.com/Ukraine
The Ukraine Risk Map can be viewed at: https://Ukraine.InherentRisks.com
Media Contact
Company Name: Inherent Risk
Contact Person: Media Relations
Email: Send Email
Country: United Kingdom
Website: www.InherentRisks.com