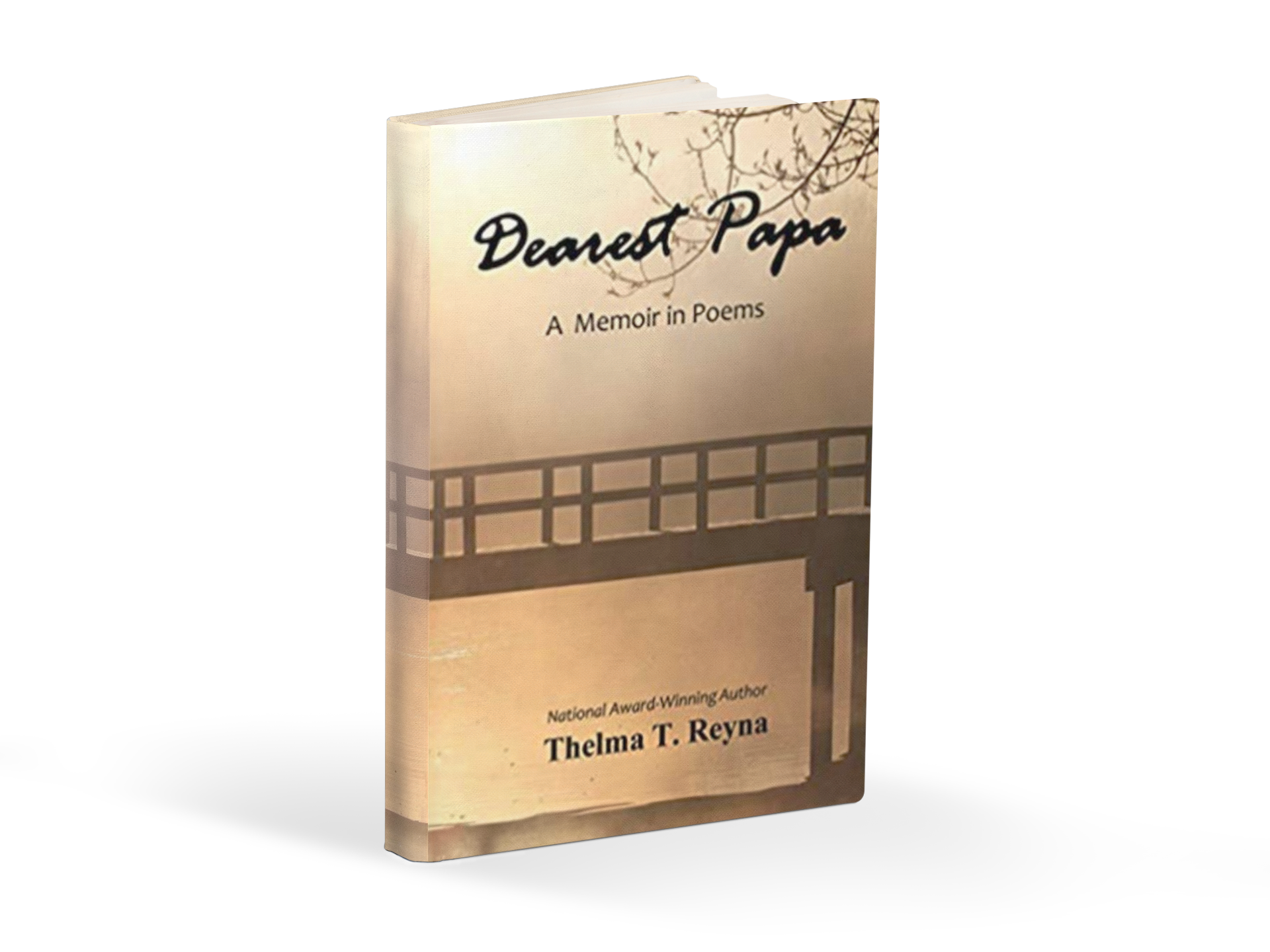 A book of love and grief showing how memory is the sharp needle that sews the fabric of our lives together again. – Cassie Premo Steele, Ph.D.
In Dearest Papa: A Memoir in Poems, former Poet Laureate Thelma T. Reyna captures the deep sorrow and despair she experienced after the sudden, untimely death of her husband — fondly referred to as "Papa" by his loved ones. When Papa went to a prestigious hospital one day for minor outpatient surgery, nobody imagined he would die on the operating table within minutes of receiving anesthesia.
In her first year of widowhood, Reyna navigated her grief mostly alone, turning to reflections on Papa's life and reliving all they had built together through a 50-year marriage. In pages filled with wonder, humor, and introspection, the reader accompanies Reyna through her early days of grieving and on to her ultimate sense of transcendence as she introduces the world to the man she loved, offering a reminder to readers to never take life and love for granted.
"It was cathartic, very raw at times… I began the book two weeks after his death and wrote throughout Papa's first year of absence, all the way through the first anniversary of his death," Reyna states.
This book captures the essence of Papa's brave, love-filled life: from his early childhood, when his mother abandoned him, through his courtship of Thelma in college, his success as a beloved teacher and athletic coach, and his full life as a devoted husband and doting father. Her book underscores how individuals "tend to live with assumptions of longevity, clocking in and out of their interactions, engaging in lockstep duties, and inevitably taking each other and life for granted," states Reyna. The work is an admonition not to slip into this kind of complacency.
Dearest Papa is also meditative, with the beauties of nature providing solace and balm to the author, abating her grief and assuring her that love surmounts loss. Surrounded by reminders of Papa–trees he planted, flower beds he created, benches he placed under trees in their backyard–the author weaves loving memories into her journey of healing.
As an international award-winning author, professional book editor and book publisher, Reyna has written 6 books, edited 4 anthologies, and earned 22 national book honors. As a Poet Laureate and Emerita, she has also led and contributed to countless literary events, festivals, readings, panel presentations, and workshops in California and Chicago.
As to why she wrote Dearest Papa, she sums it up thus: "My purposes were twofold: to navigate the grief I knew would consume my first year alone as a widow; and to pay tribute to my husband, Papa, and the impact he had on others through a life of service, overcoming challenges, and always caring. I hope readers will bond with Papa, be inspired by him, and learn something about life's unpredictability — its frailty and evanescence."
The book has received acclaim from renowned literary professionals, authors, and reviewers, as well as winning a Silver Medal in a prominent international book competition . Beverly M. Collins, poet and winner of the Naji Naaman Literary Prize, writes, "'Dearest Papa' is a solid, humble testament of how each millisecond of life expands into a bigger story that represents all of us…a deep, detailed poetic account of love and coupling."
Dearest Papa: A Memoir in Poems is available through Ingram, Amazon, Barnes & Noble, and other major book retailers. Readers looking for an incisively penned portrait of grief, courage, and catharsis can also purchase a copy through GoldenFoothillsPress.
About the Author, Thelma T. Reyna, Ph.D.
Thelma T. Reyna's books have won 22 national and international literary awards. She has written six books; edited three anthologies (poetry, personal essays, short fiction) comprising over 170 authors from across America; and served as Chief Editor of the new book, Doctor Poets & Other Healers (2022). Her fiction, poetry, and nonfiction have appeared in literary journals, anthologies, textbooks, books, blogs, and regional media for over 25 years. She served as Poet Laureate 2014-2016 in Altadena, CA, and was a Pushcart Prize Nominee in Poetry in 2017. She is the founder and Chief Editor of the national award-winning indie Golden Foothills Press, based in Pasadena, CA. Her Ph.D. is from UCLA. To learn more, please visit: http://www.GoldenFoothillsPress.com.
Connect with Thelma T. Reyna on Social Media:
LinkedIn: https://www.linkedin.com/in/thelma-t-reyna-ph-d-b59a6315/
Facebook: https://www.facebook.com/thelma.reyna
Website: https://www.authorthelmareyna.com/
Media Contact
Company Name: Author News Network
Contact Person: Media Relations
Email: Send Email
Country: United States
Website: authornewsnetwork.com