Founder and CEO of Agili8, Esther Oh recognized at the 2022 AmCham Alliance Awards Gala for ground-breaking innovation in Artificial Intelligence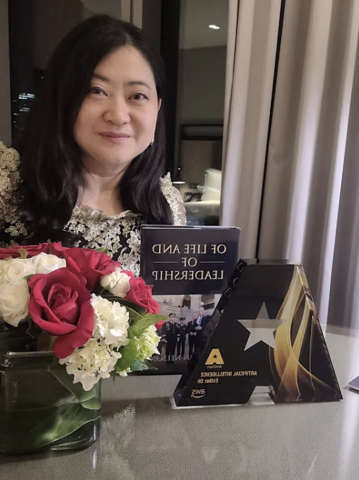 The hard work and perseverance of Esther Oh and the rest of her team at Agili8 have not gone unnoticed as the Perth mom and technopreneur wins the prestigious 2022 AmCham Alliance Award in Artificial Intelligence presented on 8 November 2022 at the International Convention Centre in Sydney, Australia.
The American Chamber of Commerce celebrates the achievements of trailblazers in six key industries essential to the future of the Australia – US relationship. An audience of 700 including key political leaders, ambassadors and private sector leaders came from US and Australia to show their support for the important advancements in Artificial Intelligence, Biotechnology, Space, Energy and Clean Technology, Quantum Computing and the Digital Economy that bring significant economic, trade and investment to both countries.
Agili8 is being recognized for its flagship augmented reality as a service solution, XRAI Vision™ – a ground-breaking integration of sophisticated eXtended Reality, Artificial Intelligence and Computer Vision into a seamless Plug and Play smart glasses solution that enable frontliners to complete time-sensitive, mission critical work handsfree in a much smarter, faster and safer way.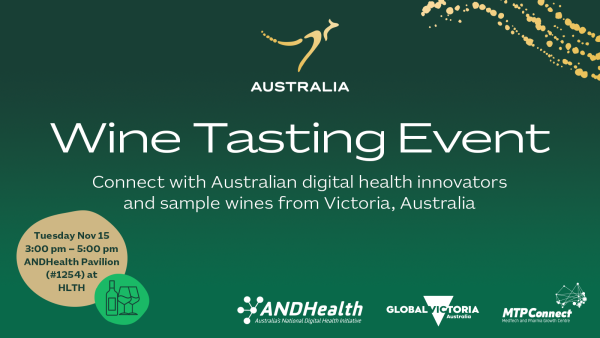 "I founded Agili8 when my son lost his vision from medical errors and delays while doctor friends died from COVID during the lockdown," commented Esther Oh. "So, I decided to find a cost-effective solution where I can save more lives and prevent such adverse events causing premature deaths and disabilities, protect those on the frontline and transform lives of those adversely impacted by this problem using lightweight, portable AI-enabled smart glasses to deliver expertise and knowledge on demand in real time."
Agili8 has received several awards and industry recognition from being the youngest start-up at the Western Australia's Innovator of the Year 2021 Rio Tinto Emerging Technologies semi-finalist when it first released a working prototype for clinicians battling with COVID manpower shortages and preventing infections amongst the healthcare workforce to winning the Cyber Security Technology Award with an exclusive invitation to solve frontline problems for Defence in a closed-door hackathon which they won and was one of the 8 consortiums awarded the $1.2M Annual Cooperative Research grant pool from the Defence Science & Technology Group to further develop their revolutionary technology, reported by Channel 9 News[1], Digital Journal[2], UK Proactive Investors[3] and other global media as the world's "1st intelligent eyes" to save and protect those on the frontline, where soldiers can command any IoT devices and robots using silent hand gestures detected by the smart glasses for real time human-machine teaming on the battlefield.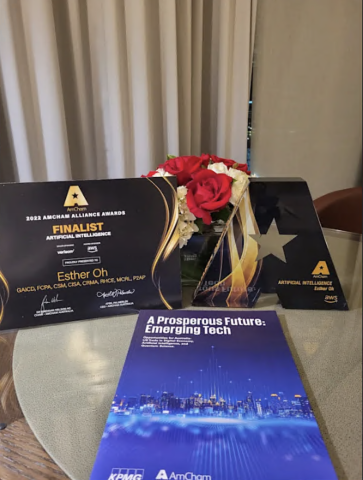 Esther also won the Women in Technology Western Australia Tech+ award for her innovation leadership and inspirational role while volunteering to encourage Indigenous and low socio-economic youths to undertake STEM careers and educate them on ethical AI through the TechTrails program in high schools. She also recently won the Tech For Good Female Founders Grant Challenge in Melbourne, crowdfunding for the Foundation of Indigenous Sustainable Health, with a crowdfunding goal of $10,000 to deliver advanced telehealth to remote Indigenous communities using XRAI Vision™, connecting Not-For-Profit volunteers, Aboriginal health workers and social workers to healthcare professionals located thousands of kilometres away as a world's 1st community pilot in rolling out a new virtual Model of Care to solve doctor shortages in regional, rural and remote communities and overcome gender and cultural sensitivities to solve the healthcare inequity gap. This innovative Model of Care utilizing Not-For-Profit and NGO workforce could prove invaluable when countries face state of emergencies when there is insufficient skilled manpower like what the world has experienced during COVID-19, and where Australian healthcare workforce can support the US at such times.
The phenomenal feat achieved by the female Asian migrant originally from Singapore, defies all odds in a male-white dominated industry, and she is taking the multiple award-winning XRAI Vision™ to the US. The goal is to enable users, especially frontline healthcare, security and emergency workers, to experience the power of XRAI Vision™ with minimal implementation downtime and minimal learning curve for rapid upskilling of scarce workforce where time is of essence to save lives.
Agili8 is one of the 12 companies selected by ANDHealth to represent Australian leading innovations at HLTH in Las Vegas from 13 to 16 November 2022 at The Venetian Expo Australian Pavilion booth #1254-1. The company is inviting healthcare providers to conduct pilots with and expressions of interest from global investors during the event.
To learn more about XRAI Vision™ and its applications, visit – https://www.agili8.com/
About Agili8
Agili8 is a multi-award-winning pioneer of revolutionary advancements in eXtended Reality, Artificial Intelligence and Computer Vision known as XRAI Vision™. The company is a Profit with Purpose Business for Good with global ESG impacts committed to United Nations Sustainable Development Goals.
[1] World-first project bringing Australian robo-warfare into next generation (9news.com.au)
[2] Agili8 showcasing avantgarde XRAI Vision™ smart glasses at Wholesale Investors Capital Expo in Sydney – Digital Journal
[3] Australian Defence to teach robots hand gesture recognition with AR technology (proactiveinvestors.com.au)
Media Contact
Company Name: Agile 8 Pty Ltd, trading as agili8
Contact Person: Esther Oh
Email: Send Email
Phone: +61 1800 841 989
Country: Australia
Website: https://www.agili8.com