World-renowned model and fashion enthusiast, Verina Marcel, launches her clothing line, VERINA, as well as a beauty and health brand
Verina Marcel is set to show her entrepreneurial prowess in an industry she is no stranger to, following plans by the model and fashion icon to launch the VERINA collection, collaborating with fashion designer, Lloyd Klein. The fashion model and entrepreneur known for her passion for empowering women by giving them a specific and unique opportunity to express themselves is entering a new territory, amid plans to launch a beauty and health brand.
"Fashion has always been a big part of my life. It's a beautiful way to be creative and express myself. My mom used to sketch and design her own dresses when she was a teenager, and my grandmother would sew them for her. She was the sweetest, most elegant lady. I miss her very much. So, being fashionable is in my DNA. Also, as a model, I am around fashion all the time, and I think it's a natural process at this point." – Verina Marcel. "I am looking forward to creating my own brand and setting up my podcast, which talks about fashion, beauty, and real life."
Overview of the Global Fashion Industry
The series of evolution witnessed in the fashion world has been phenomenal, to say the least, with fashion designers and brands emerging from different parts of the world to deliver amazing pieces to fashionistas. The global apparel market, which encompasses every kind of clothing, from sportswear to businesswear, was estimated to be valued at over $1.5 trillion in 2021, according to a report by Statista. The report also projected the market size to hit approximately $2 trillion by 2026, driven by increasing demand from consumers as well as globalization and the growing penetration of the internet that enables shoppers to purchase their favorite items online. There has been a shift in trend to conscious fashion as people express themselves through clothing. Verina Marcel is looking to set the pace in this aspect by launching the VERINA clothing line to help women express their feminism without compromising style and functionality.
Verina Marcel As a Fashion Entrepreneur
Verina Marcel brings her years of experience and success in the fashion industry working with the best In the business across different categories to the fore, as she creates exceptional pieces that help women stand out at any event. Over the years, Verina has built a reputation across the industry for working with iconic designers' and featuring on many covers and editorials for most popular fashion magazines, including Vogue, Cosmopolitan, L'Officiel de la Mode, Harper's Bazaar, and Elle. The model has also starred in commercials for major brands as well as walked the runway for the likes of Chanel, Valentino, Armani, Fendi, Guess, Gucci and YSL.
Verina is very excited to collaborate with Lloyd Klein on the VERINA clothing brand, with the duo having a long working relationship. The gorgeous Verina served as Lloyd's muse and in-house model before becoming a consultant on his collections. The fashion world can expect all shades of amazingness from the clothing line.
"Lloyd and I have known each other for a long time. We met in Paris, at the beginning of my career, I got booked to walk in his runway show. We hit it off and became friends. We both became very busy, working in different parts of the world, and lost touch for a while. I was in LA when my agent asked me to meet this amazing fashion designer from Paris for his couture fashion show. We were so happy when we reconnected. He is incredibly talented." – Verina Marcel.
The VERINA line will offer a collection of dresses expected to become everyday staples for women of all age groups, giving fashionistas the chance to tell their stories, irrespective of the season, mood, or day. VERINA targets the market with female celebrities with the qualities of feminism, strength, and empowerment, attributes that have helped Verina Marcel stand out in her endeavors.
Verina Marcel as a Philanthropist
In addition to making a mark in the fashion world, Verina has also demonstrated her advocacy against animal cruelty using every platform available. As an animal lover, Verina always had pets growing up and she has never been without a dog by her site. She loves her fur-babies very much. It is not surprising that a percentage of profits made by VERINA will be donated to Wild Aid, an Animal Rights charity. She has also advocated for every fashion brand to go fur-free, a drive that is evident in all her works as a model, consultant, and now entrepreneur.
"It is important to give back and to make a positive change in any way we can. I have a deep passion for animals. They are beautiful and pure and need to be protected. We need to use our voice for those who don't have one. I became a vegan when I was in my early 20s. I've refused to do fashion shoots, and runway shows when I was asked to wear fur." – Verina. "I can't stand the thought of people hurting animals. The punishment for animal cruelty should be the same as it is for humans! I grew up in the countryside in Germany around farms and animals. I would love to have a ranch at some point, with lots of rescue animals. An animal sanctuary, surrounded by nature."
For further information about Verina Marcel and her work as an entrepreneur, animal rights advocate, podcast host, and model, visit – http://www.verinamarcel.com/. Instagram, Facebook, and Twitter.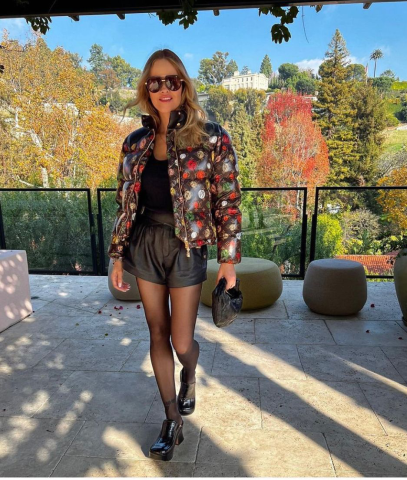 Media Contact
Company Name: Verina Marcel
Email: Send Email
Country: France
Website: verinamarcel.com