Thank you, America & Americans is written by Armen Saginian and represented for a film adaptation project by Dreambooks Media Professionals.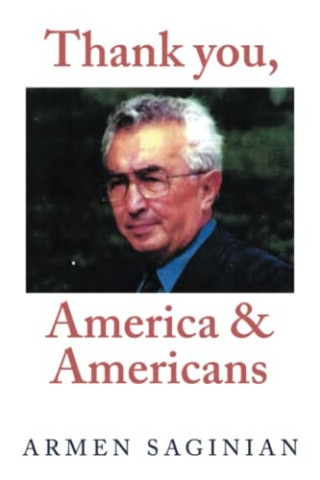 Thank you, America & Americans by Armen Saginian is a book that pays the author's gratitude and respect to the American nation. It is an autobiography that consists of a history of 200 years. It starts in 1818 when the forefathers of that author left Georgia and settled in Iran. The author couldn't digest this massive change in his life and brought himself back to the United States.
Armen Saginian has targeted the misled youth of the United States who have taken their country for granted. He believes in the American dream and terms it a land of opportunities. People looking for a good life will find hope in this book. Armen sees America with different spectacles. He has analyzed the fact that the forefathers of this country have given their lives for the development of this country. This revolutionary change cannot be achieved overnight. This country was not handed to Americans, they made it.
Based on the life story of Armen Saginian, the book presents several reasons why America is a great country for individuals to develop themselves. But personal development requires a proper plan. The author claims that "Planning is the blueprint for success. It sets the foundation, provides the framework, and guides the direction towards achieving our goals." The most crucial element that he acknowledged is the ample economic opportunities. The United States is one of the largest economies in the world, with a diverse range of industries and job opportunities. By pursuing a career in America, one can take advantage of the country's strong economy.
Another important element that Armen seems to acknowledge is cultural diversity. The United States is a melting pot of cultures, with people from all over the world living and working together. This cultural diversity is reflected in the country's food, music, art, and everyday life. Many cities in the US offer a high quality of life, with excellent healthcare, cultural amenities, and infrastructure. In addition, the country's vast natural resources, including national parks, beaches, and scenic landscapes, offer ample opportunities for recreation and leisure activities.
One most significant element that Armen couldn't help appreciating is the strong democratic structure of the United States. The democratic traditions and stable political system are the reasons that it keeps on flourishing. The country's system of government and rule of law is designed to protect individual rights and ensure equal treatment under the law. Armen never felt any biases against him and his cultural background never got in his way of development.
Thank you, America & Americans is represented by Dreambooks Media Professionals and is available for sale on Amazon.
About the Author:
Armen Saginian is a naturalized American citizen. His forefathers moved from Georgia to Iran in 1818 but he came back and settled in the United States, where he pursued a successful career with proper planning.
Media Contact
Company Name: DreamBooks Media Professionals
Contact Person: Derrik Jonathan Vassar
Email: Send Email
City: Houston
State: Texas
Country: United States
Website: www.dreambooksmediapro.com