SnapPads snap on permanently to the metal jack of an RV, like "shoes" for the RV.
CALGARY – February 22, 2021 – RV SnapPad is saving RV owners time, hassle and back pain with jack pads that snap on permanently to the RV's metal jacks like shoes. Thanks to this innovative product, RV owners no longer need to carry around, store and position jack pads beneath their rig every time they set up. In addition to being easy to use, the RV SnapPads are designed to protect the RV's metal jacks from the elements.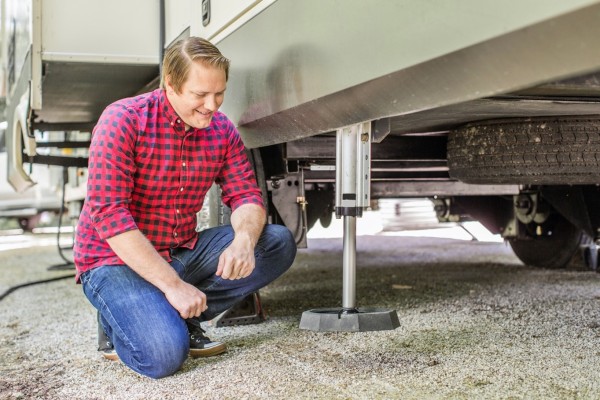 The current jack pad options on the market are all cumbersome to use. RV owners can choose from blocks, mats, or pieces of wood that must be carried, stacked and placed beneath the jack. The RV SnapPad rivals all these options because it snaps on easily and stays on permanently. This saves RV owners the time and energy they would otherwise spend hauling all these extra pieces around.
"We've designed our RV SnapPads to snap on in literal minutes and protect your RV jack for a lifetime," says RV SnapPad founder Gordon Wilson. "Simply snap these jack pads on once and you'll be good to go – no need to break your back taking the jack pads off or moving them around as you go from one adventure to another."
Launched by Gordon and his three sons from their garage in late 2015, SnapPad started out as a bootstrapped, direct-to-consumer brand, selling directly to RVers via their website. Although the business remains family-run and independently owned, SnapPads have grown into an omnichannel brand over the last six years. With a catalog that features dozens of SKUs, SnapPads are now carried by hundreds of RV dealerships across North America, as well as Amazon, etrailer.com, and rvupgrades.com
Thanks to COVID-related lockdowns, the RV industry has experienced the biggest boom in its history over the last two years. With significant brand momentum heading and strong headwinds from growing RV ownership, this small, scrappy company is expecting triple-digit revenue growth moving forward. In fact, since early 2020, Gordon notes "our main challenge is just making the pads fast enough to fulfill demand."
About RV SnapPad
RV SnapPad is the world's only permanent jack pad. With its unique design, this jack pad snaps on in minutes and protects the RV jack from the elements for a lifetime. The RV SnapPad makes setting up camp in an RV a breeze – the RV owner only needs to snap it on once and enjoy the protection and convenience for years to come.
Media Contact
Company Name: RV SnapPad
Contact Person: Kent Wilson
Email: Send Email
Country: Canada
Website: https://rvsnappad.com/