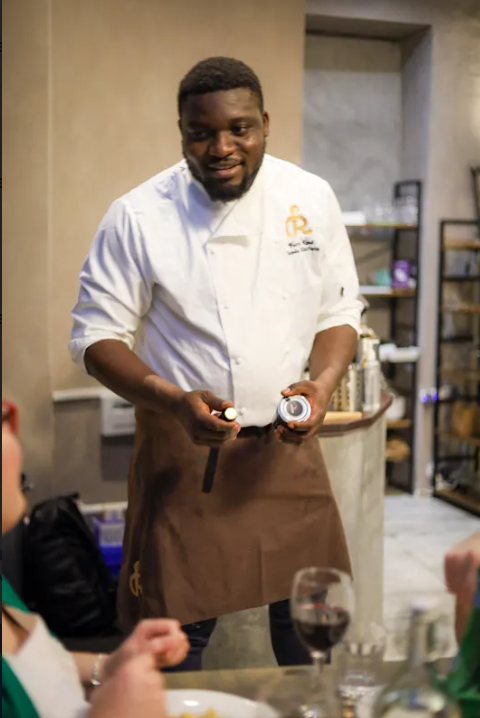 Edinburgh, Scotland – Chef Tunde Abifarin has announced that his culinary outfit will now have a permanent resident at Tani Modi. Tani Modi, an independent chic café which is located on the historic Hanover Street in the heart of Edinburgh. Chef Abi, as he is better known, will present an enticing menu that is a medley of cuisines from all over Africa. The proposed opening date for Farin Road is May 6, 2022 at 103 Hanover St, Edinburgh EH2 1DJ. Tani Modi closes at 4 p.m., while Farin Road opens at 5.30 p.m. Farin Road will open for dining two days a week, Friday, and Saturday, at first, and will expand to more days as business grows.
Farin Road specialises in innovative Pan-African cuisine. Africa has an unmistakable food culture, and African cuisine reflects decades of history of various cultures interacting within the continent, resulting in a wide range of flavours and regional cuisines. Chef Abi puts his own spin on it, reinterpreting nostalgic African dishes with an openness to global techniques and influences, highlighting distinct flavours from his motherland.
Each carefully curated dish at Farin Road draws inspiration from the African continent, Brazil, and the Caribbean. Dishes are rooted in Sub-Saharan Africa and lovingly prepared so that diners can savour the essence of Africa with every bite.
Diners can anticipate a culinary journey that's packed with flavour and fresh ingredients. Abi has crafted an exciting menu that includes a range of dishes such as Jerk from the Caribbean, kachumbari from Tanzania, agashe from Sudan, chakalaka from South Africa and many more.
The Farin Road journey began in Edinburgh with a series of pop-ups and private events giving the African community a superior option to a variety of African food. Every course is rich both culturally and in history and boasts complex unique flavours. Chef Abi has been an advocate for the spread of African cuisine introducing it to the wider Scottish community by incorporating African ingredients into many of his menus while working as a head chef at restaurants.
As Abi puts it, "The vast Scottish larder tells an African tale. Farin Road finds its origin in the abundant Scottish larder, which is readily available to the kitchen. The team have taken a bold leap into the uncharted world of curating the cuisine of the African continent in a new way."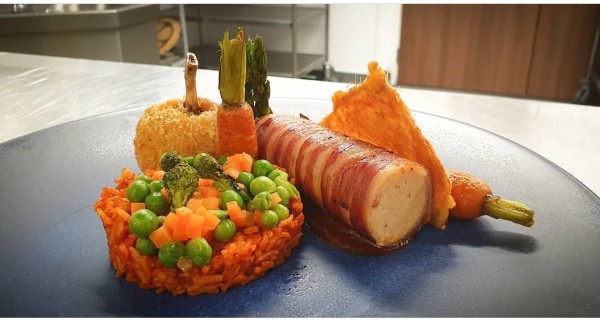 "Chef Abi' chicken suya, mousse with jollof rice."
Abi already has a devoted following in Edinburgh and has received critical acclaim and praise. As one delighted diner put it: "We attended a 5-course menu food tasting. The experience was amazing! Lovely ambience well-presented, great food coupled with the chef's likeable personality. Finally, African food has arrived in style… First class food!"
Chef Abi is looking forward to preparing his unparalleled fusion African cuisine at Farin Road beginning May 6, 2022, and has plans for adding takeaway and delivery services in the near future.
About Chef Abi:
Abi is a chef based in Edinburgh, Scotland, who has been in the industry for over a decade. Chef Abi's impressive culinary resume includes posts at The Balmoral Hotel, The Pompadour at the Waldorf Astoria, and the head chef position with Restaurant Associates, and The Murrayfield Hotel. He has extensive experience in an assortment of food establishments ranging from takeaways to fine dining in a variety of cuisines including French, British, and Asian. His love of African food is the foundation of this project. Farin Road, where he reinterprets nostalgic African dishes featuring distinct flavours from his motherland.
CONTACT: To learn more about Farin Road, Chef Abi, or to arrange an interview please contact us at farinroad@gmail.com
Social Media:
Facebook: Farin road
Media Contact
Company Name: Chef Abi
Contact Person: Media Relations
Email: Send Email
Address:Farin Road: 103 Hanover St
City: Edinburgh EH2 1DJ
Country: United Kingdom
Website: https://www.farinroad.co.uk/