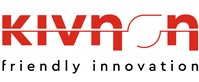 Kivnon USA, a leader in developing, designing, producing, and distributing automated guided vehicles (AGVs), will exhibit at Booth 1744 at the ASSEMBLY Show Rosemont, IL from October 25-27, 2022.
"Kivnon provides solutions for automating the transport of very heavy loads over long distances in bidirectional processes. The power to move large loads and provides greater flexibility in the movement of materials within production or logistics processes," noted USA Country Manager, Jaume Martinez, based in Farmington Hills, Michigan.
Rob Britt, Sales Engineer, with Kivnon USA said, "The Assembly Show is a terrific opportunity to share our solution for automating the transport of medium loads in highly specific processes and work environments where space is tight. With the rotational lift table, these mobile robot can rotate on itself maintaining the absolute position of the load allowing greater flexibility of movement while improving throughput and productivity."
The 10th annual ASSEMBLY Show welcomes thousands of engineers and manufacturing executives. Event participants will uncover new resources, evaluate the latest technologies and products, learn from industry experts, and connect with experienced professionals. Exhibitors will showcase the latest assembly technology equipment and products.
Kivnon also offers exclusive demonstrations and welcomes visitors to the North American facilities based in Farmington Hills, Michigan. Kivnon specialists demonstrate the two-way mobile robot used in different settings as well as explain how Kivnon can help transition to Industry 4.0 to improve continued process efficiency. Decision-makers unable to attend The Assembly Show, may schedule time to view the robots in action and evaluate their implementation strategy during the demonstration by making an appointment here.
About Kivnon:
Kivnon offers a wide range of autonomous vehicles (AGVs/AMRs) and accessories for the transport of goods, using magnetic navigation or mapping technologies, that adapt to any environment and industry. The company offers an integral solution to customers. Kivnon products are characterized by their robustness, safety, precision, and high quality. Each product has been designed with a user-friendly philosophy creating a pleasant, simple to install, and intuitive work experience.
The company offers a wide range of mobile robotics solutions automating different applications within the automotive, food and beverage, logistics and warehousing, manufacturing, and aeronautics industries. Complete the 2022 ROI Kivnon AGV/AMR inquiry form. Follow Kivnon on Twitter @KivnonUSA.
Media Contact
Company Name: Kivnon
Contact Person: Rob Britt
Email: Send Email
Phone: (947) 228-1316
Address:37640 Hills Tech Drive
City: Farmington Hills
State: MI
Country: United States
Website: https://www.kivnon.com/