Cowen Partners Executive Search published the CFO Movement Study 2022, presenting the findings of their study of the 264 CFO transitions in the first half of 2022.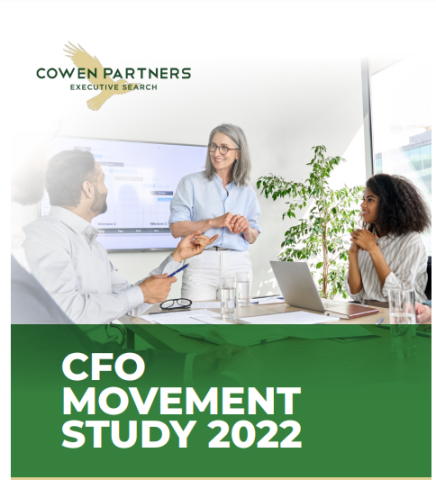 Cowen Partners Executive Search is one of the nation's leading CFO executive search firms, helping clients drive revenue and create value. Recently, Cowen Partners released the first kind of CFO origins study, tracking women and people of color as Chief Financial Officers.
In July 2022, CFO hiring trends in companies had seen a drastic change, as female CFOs hired were 36 percent, an all-time high when compared to 15% of sitting female CFOs at Fortune 500 and S&P 500 companies in the previous year.
The CFO Hiring Trends in 2022; Cowen Partners
More females of color obtained their first-time CFO position through an internal promotion (33% of females of color) than their white female peers (22% of white females). This key finding may suggest that internal promotions are favoring women of color due to diversity, equity, and inclusion efforts within organizations. If so, this may be why white females are leaving their organizations for first time CFO positions.
First-time CFOs of color who are internally promoted are disproportionately more credentialed when compared to their white peers. This finding may suggest that first-time CFOs of color may think that they have to obtain more credentials than their white counterparts in order to be considered for such positions. The study refers to statistics that more CFOs of color hold MBAs and CPAs in comparison to their white counterparts.
In the report by Cowen Partners, Shawn Cole (President, Cowen Partners Executive Search) said, "Demand for female and CFOs of color has never been stronger and is frequently a daily conversation with prospective clients."
To learn more, visit: https://cowenpartners.com/cowen-partners-cfo-movement-study-2022/
About the Cowen Partners:
Cowen Partners is the nation's executive search firm that gives companies a smart way to have the talented human power to grow. Cowen Partners ensures clients with the top 1 percent of human capital accelerate their business development and share a professional ambiance in the market.
The company helps businesses to stand out from competitive trends with better value and revenue and drives results to huge success. With Cowen Partners, enterprises get proven processes and guaranteed placement of hundreds of skilled and experienced candidates.
The Cowen Partner has been reliable in processing industry-specific demands to place executive leadership. So far, it has served sectors including healthcare, technology, manufacturing, retail, financial services, and private equity.
Media Contact
Company Name: Cowen Partners Executive Search
Contact Person: Shawn Cole, President
Email: Send Email
Country: United States
Website: cowenpartners.com