Detroit based musician and entrepreneur Nino Staxx has now released an illustrated children's book with relatable characters.
Nino Staxx a is celebrated musician, artist, producer and entrepreneur hailing from Detroit, Michigan. He is now a published author with the release of his latest illustrated children's book titled 'The Adventures of Melanin Man'. The new book features an inspiring superhero called Melanin Man, who is on a mission to save the earth before the book antagonist Zuro can freeze the sun. Through this fun and relatable character, the author aims to teach positive habits and important values to young children.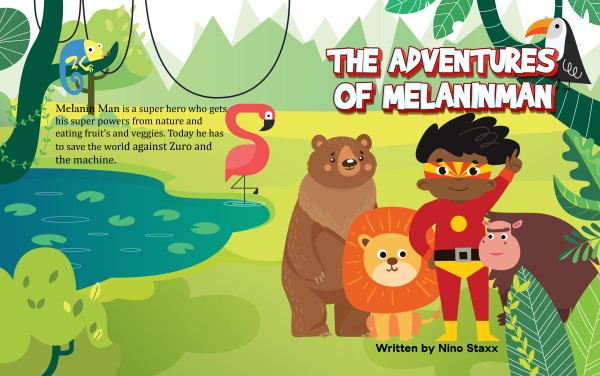 'The Adventures of Melanin Man' was released exclusively on Amazon.com with a paperback version and an Amazon Kindle version for those who prefer to read digitally. The book release came with a new Melanin Man merchandise collection. This limited edition merchandise includes shirts that are only available on Amazon. He plans to release toys, visuals, games, NFT's, and more.
A spokesperson for Nino Staxx made an official press statement, "Nino Staxx is passionate about helping kids be more creative, work together and find empowerment through relatable characters such as Melanin Man. This book is a fun way for parents to spend quality time with their children, while also teaching them important life lessons."
Melanin Man is on a mission to save the earth before Zuro freezes the sun with his machine. Can you help him before it's too late? Follow along as Melanin Man goes through the jungle, meets all types of animals, and uses nature to help him save humanity!
The official Amazon listing can be seen at https://www.amazon.com/dp/B0BLB6Y7HQ
The official merchandise can be seen at https://www.amazon.com/dp/B0BLC4BLSK?customId=B07HPYNY5G&th=1
Media Contact
Contact Person: Nino Staxx
Email: Send Email
Country: United States
Website: https://www.amazon.com/dp/B0BLB6Y7HQ