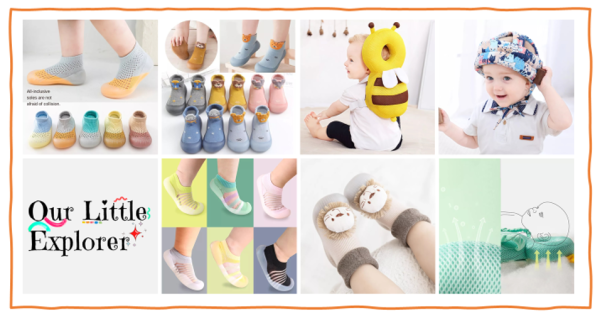 The team at "Our Little Explorer" is on a mission of providing high-quality products made from top-rated materials that ensure safety, comfort, and ease of use for children worldwide. The team "Our Little Explorer" consists of some parents and three little ones. The parents in the team state that because the children are their greatest challenge they thought to create the business "Our Little Explorer". Their main focus is to ensure the children's health and extreme safety while they are reaching their full potential during each growth milestone. At "Our Little Explorer" you can find perfect solutions for each and every toddler activity including crawling, sitting, running, taking their first steps and simply exploring. Every product available at Our Little Explorer has been created to ensure both security and comfort. They have a collection of baby clothing, gift sets and accessories, baby safety items, and footwear for babies including non-slip sock shoes, baby shoes, kids shoes, and sock shoes.
Toddlers can benefit greatly from non-slip sock shoes as they start to walk, allowing the tiny ones to obtain more traction on the ground. Unlike conventional socks, they can stop babies' feet from slipping out from under them, even though they cannot stop toddlers from falling. Additionally, while non-slip socks are a fantastic tool for toddlers to use when they are mastering walking, there is a perfect time and place for them. Many toddlers prefer to be barefoot as much as possible and hate wearing anything on their feet. While this is acceptable indoors, keeping the toddler's extremities warm can help keep the rest of their bodies warm when they go outside or are exposed to cool air. Since toddlers can still feel the ground beneath their feet when non-slip socks are worn, gripper socks may be a better option for individuals who dislike wearing shoes. a task that is impossible to perform while wearing shoes. At "Our Little Explorer" you'll find the perfect baby safety items. They also have a range of baby clothing and gift items and accessories fitting for every season to select from.
Your home will be a safe area for your child to play and explore while baby safety items are used, which also helps to avoid accidents. Maintaining a toddler's safety is a challenge and with your child's growing mobility, it gets much trickier because it's crucial to stay a few steps ahead. The brain frequently interprets the presence of a threat as present if a youngster does not feel comfortable or secure. The slightest thing could be perceived as a threat by it. So using safety items and precautions is crucial. The items at "Our Little Explorer" can be purchased at reasonable prices and they always focus on quality and ensures it. They also focus on customer satisfaction and strive to deliver on all customer expectations. "We want to put smiles on all the faces of children by helping them explore the world", the team "Our Little Explorer," says.
Media Contact
Company Name: Our little explorer
Contact Person: Laura Gleeson
Email: Send Email
Phone: +353 19026724
Country: Ireland
Website: https://wwww.ourlittleexplorer.co